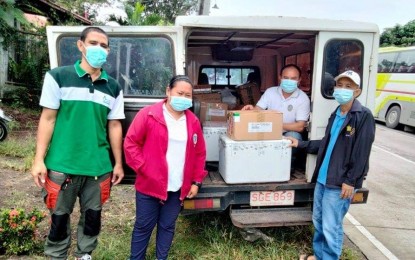 BACOLOD CITY – The Negros Occidental Provincial Veterinary Office (PVO) has beefed up the supply of veterinary drugs and biologics in all animal centers across the province to strengthen the implementation of its extension services and address sporadic animal diseases.
Dr. Renante Decena, provincial veterinarian, said in a statement on Thursday they delivered PHP1.5 million worth of supplies to all the six district field units earlier this week.
These included anti-bacterial, anti-parasitic, vitamin and mineral supplements as well as vaccines for common livestock and poultry diseases such as rabies, hog cholera, Newcastle disease, and infectious coryza.
"The supplies are positioned to prevent and control the occurrence of endemic animal diseases and enhance the production performance of poultry and livestock," Decena said.
He said the PVO has recorded a high mortality rate of chickens due to Newcastle disease in Sitio Minnesota, Barangay Sag-ang in La Castellana town, and the spread of sporadic diseases in other areas of the province.
Newcastle is highly contagious disease of birds caused by a virus with
symptoms such as swelling of the tissues of the head, muscle tremors, drooping wings, twisted head, circling, paralysis, or sudden death.
The PVO district field units, headed by district veterinarians, conduct medical missions in various barangays in their area of jurisdiction, to provide the necessary veterinary care and services needed by pet owners, and livestock and poultry raisers.
Clients can also avail of veterinary services by visiting the district field units in their respective areas.
In the first district, the animal center is located at the second floor of the public market in San Carlos City; second district, Old City Health in Sagay City and Crossing Barangay 1-A in Manapla town; third district, Barangay Poblacion I in E.B. Magalona town; fourth district, Municipal Agriculture Office in San Enrique town; fifth district, Senior Citizens building in Hinigaran town; and sixth district, Barangay Poblacion in Cauayan town. (PNA)