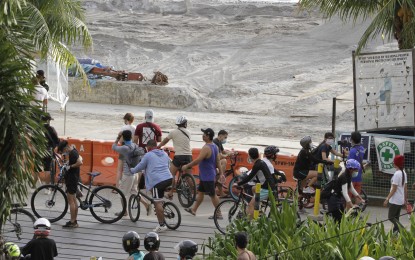 MANILA – The waters off the Baywalk area along Manila Bay can soon be fit for swimming and other contact recreational activities.
Measures for rehabilitating Manila Bay will continue, so the concentration of fecal coliform bacteria in Baywalk's waters can dip further and eventually meet the 100 most probable number per 100 milliliters (MPN/100 mL) standard for accommodating such activities, noted Department of Environment and Natural Resources (DENR) Secretary Roy Cimatu.
"Hopefully, we'll be able to go into that standard by October," he said on Thursday during the government's Talk to the People program.
He noted dredging and other rehabilitative activities for Manila Bay are helping improve the quality of Baywalk's waters.
In 2019, the government commenced rehabilitation of Manila Bay so this historic water body can be fit again for contact recreation as ordered by the Supreme Court in 2008.
Fecal coliform level there was around 1.26 billion MPN/100 mL when the government decided to undertake the rehabilitation, Cimatu noted.
He, however, said fecal coliform level in Baywalk waters already dipped to some 7,000 MPN/100 mL this August.
Treatment of effluent discharging into Manila Bay significantly contributed to such improvement said Manila Bay Coordinating Office project monitoring and evaluation officer Frann Serrano.
"Baywalk's Abad, Padre Faura and Remedios outfalls are no longer directly discharging effluent into Manila Bay," he said.
The effluent already flows into the new government-built sewage treatment plant to be treated there before being discharged into Manila Bay, he noted.
He said before the government implemented such protocol, fecal coliform level in 2018 in Abad outfall's untreated effluent reached some 1.26 billion MPN/100 mL.
Fecal coliform levels in Padre Faura and Remedios outfalls' untreated effluent were correspondingly 7.62 million MPN/100 mL and 30.4 million MPN/100 mL in 2019 when DENR began monitoring water quality there, he continued.
"Previously, untreated effluent from the three outfalls directly discharged into Manila Bay, affecting water quality there," he said.
With treatment, however, Serrano said fecal coliform levels in June this year in Abad, Padre Faura and Remedios outfalls' effluent already dipped to 13.7 million MPN/100 mL, 11,000 MPN/100 mL and 22,000 MPN/100 mL, respectively.
"We're targeting to meet the fecal coliform standard (100 MPN/100 mL) this year," he said.
Work continues to create a white sand beach bordering Baywalk. Such beach nourishment project is part of Manila Bay's rehabilitation, DENR noted.
Cimatu said the government plans to install a viewing deck in the beach area. Having such a deck will enable people to enjoy Manila Bay's world-famous sunset, he said.
The government is using crushed dolomite to create a white sand beach. Engineering interventions there will prevent erosion of the crushed dolomite, said DENR. (PNA)