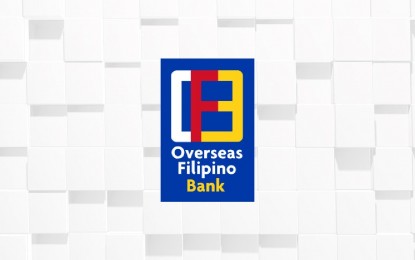 MANILA – Deposit accounts opened through the Overseas Filipino Bank's (OFBank) digital onboarding system more than doubled to nearly 46,000 as of July of 2021, compared to the number of accounts in December last year.
In a report to Finance Secretary Carlos Dominguez III, the Land Bank of the Philippines (Landbank) said that from January to July 2021, new deposit accounts opened through the OFBank's Digital On-Boarding System with Artificial Intelligence (DOBSAI) totaled 25,648.
Along with the 19,887 DOBSAI accounts opened as of December 2020, the total number of deposit accounts opened with OFBank reached 45,535 as of end-July.
The bank's DOBSAI allows the real-time opening of a mobile banking deposit account on supported iPhone or Android devices.
OFBank, the country's first branchless and digital-only government bank, is a wholly owned subsidiary of Landbank.
The Monetary Board (MB) of the Bangko Sentral ng Pilipinas (BSP) issued the OFBank's digital banking license last March 25.
On June 29 last year, the OFBank was launched virtually amid the coronavirus disease 2019 (Covid-19) pandemic as the Philippines' first branchless and digital-centric government bank.
Its approved conversion to digital bank is the first phase of the three-stage licensing framework of the BSP on the establishment of new digital banks.
The OFBank was created under Executive Order (EO) No. 44 that was signed by President Rodrigo Duterte in September 2017, in fulfillment of the Chief Executive's promise to put up a bank that would cater to Filipinos based overseas.
This lender operated as a thrift bank before securing its digital banking license.
The OF Bank is now about to complete the stage 2 post-approval requirement of a digital bank as BSP already issued on July 8, 2021 a certificate of authority to register (CAR) with the Securities and Exchange Commission (SEC) its amended Articles of Incorporation and By-Laws.
Besides deposits, the digital services available to OFBank account holders include fund transfers, bill payments, and government bond purchases.
The bank's global digital reach now spans 113 countries and territories, with its clients able to access online the services of 763 merchants onboarded in its mobile application via the LinkBiz.Portal.
Its digital presence covers the top 10 destinations for the deployment of overseas Filipino workers (OFWs), namely Saudi Arabia, United Arab Emirates (UAE), Singapore, Hong Kong, Qatar, Kuwait, Taiwan, Italy, Bahrain, and Malaysia.
Merchants onboarded in OFBank's app include 124 utility and service companies; 186 educational institutions; 277 government agencies and local government units (LGUs); 140 cooperatives/associations/foundations/corporations; 20 hospitals/healthcare/clinics; and 16 banks, credit card companies and insurance companies. (PR)