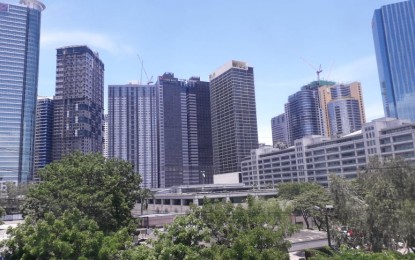 MANILA – Gains from the positive 11.8-percent gross domestic product (GDP) in the second quarter of the year may likely push the Philippine economy's full-year expansion to nearly 5 percent, a report said.
The Market Call, the joint monthly publication of First Metro Investment Corporation (FMIC) and University of Asia and the Pacific (UA&P), said latest reports on exports, imports, manufacturing, and government spending, among others, also boost hopes for faster economic recovery in the second half of the year.
It said overall full-year growth outlook "has brightened" following the release of the second-quarter GDP figure, which ended the five consecutive quarters of contraction.
But the report said quarter-on-quarter GDP data slipped by 1.4 percent in April to June this year while an economic hit is expected from recent lockdowns.
"These lead us to think that the low side of (or slightly below) our 5-6 (percent) FY (fiscal year) projection would land us in the safe zone," it added.
The report further said manufacturing continues to rise in the third quarter, with the Purchasing Managers Index (PMI) at 50.4, lower than the 50.8 last June.
An index higher than 50 indicates expansion while an index below 50 shows otherwise.
Exports remain on expansion although the July year-on-year figure slowed to 17.6 percent.
"However, we note that in terms of levels (of) exports (at USD6.5 billion), it greatly exceeds levels in January and February 2020, as well as those of June 2019," the report said.
Government expenditures are boosted by those related to infrastructure projects, it added, and these are to be sustained ahead of the May 2022 national polls.
The rate of price increases continues to post slower year-on-year print, with the July figure at 4 percent, the lowest so far this year and is now within the government's 2 percent to 4-percent target band.
"Headline inflation may not drop below 4 percent in Q3 (third quarter) because of the low base a year ago. But with crude oil prices sharply falling in August, and food prices stabilizing, it will likely go below that threshold early in Q4 (fourth quarter)," the report said.
Deceleration of domestic inflation rate may result in another monetary policy easing in the coming months but the report forecasts a cut in the reserve requirement ratio (RRR) instead of the key policy rates.
"The good Q2 GDP print will see it happening only with negative macroeconomic data, which cannot be ruled out due to the new quarantine restrictions," it said.
Bangko Sentral ng Pilipinas' (BSP) policy-making Monetary Board (MB) slashed the central bank's key policy rates by a total of 200 basis points last year in a bid to help buoy the domestic economy from the impact of the pandemic.
To date, the BSP's overnight reverse repurchase (RRP) rate is at record-low of 2 percent.
It also cut banks' RRR by as much as 200 basis points to ensure that financial institutions would have adequate funds for lending, which is expected to boost economic activities.
Meanwhile, the report cited the slower expansion in employment gains last June and this is projected to "further get smaller in July as the government imposed tighter quarantine restrictions in Metro Manila+ citing a sharp rise in infections of Covid (coronavirus disease 2019) delta variant."
Employment rate remained at 92.3 percent last June compared to the previous month and the unemployment rate registered the same figure at 7.7 percent. (PNA)