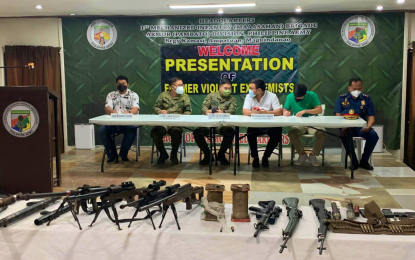 AMPATUAN, Maguindanao – Twelve Bangsamoro Islamic Freedom Fighters (BIFF) who said they were deceived into joining the terror group surrendered to the military on Monday afternoon.
Col. Pedro Balisi, commander of the Army's 1st Mechanized Infantry Brigade (1MIBde), said on Tuesday the rebels yielded at their headquarters in Barangay Kamasi here.
"They (surrenderers) made the right choice as they are fighting a futile cause," Balisi told reporters in an interview but declined to identify them for security reasons.
The surrendering batch, all members of the BIFF-Bungos faction, turned in an M16 rifle, two M14 rifles, two homemade .50 caliber sniper rifles, two .30 caliber sniper rifles, three rocket-propelled grenade launchers, two improvised explosive devices, explosives, and ammunition.
An alias Sudan, one of the surrenderers, said they are tired of fighting, and most of the time, running from pursuing military forces in the mountains of Maguindanao.
"We were further disappointed upon learning that we were duped as they promised to pay us a huge amount monthly (but) it never happened," Sudan said in a phone patch interview.
Banaag has lauded local officials of nearby Shariff Saydona Mustapha, Maguindanao in helping the Army to convince the rebels to surrender.
He said the BIFF batch is currently undergoing custodial debriefing, while their livelihood assistance packages are being processed by the Shariff Saydona Mustapha town government.
Since January this year, some 150 BIFF members have surrendered to military and police authorities in the province. (PNA)