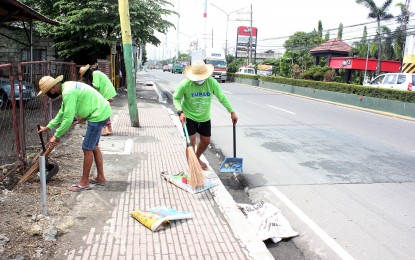 MANILA – The government has distributed PHP10.45 billion under the Department of Labor and Employment's (DOLE) jobs programs for local and overseas workers affected by the Covid-19 pandemic.
In his report to President Rodrigo Duterte during the prerecorded Talk to the People Monday night but was aired Tuesday morning, DOLE Secretary Silvestre Bello III said more than 2 million formal and informal sector workers and displaced overseas Filipino workers (OFWs) have benefited from the social amelioration programs.
He said the programs include Covid-19 Adjustment Measures Program (CAMP), Tulong Panghanapbuhay sa Ating Disadvantaged/Displaced Workers (TUPAD), and Abot-Kamay ang Pagtulong (AKAP).
"As part of the government's social amelioration program under Bayanihan 1 and Bayanihan 2. The DOLE distributed PHP5,000 as one-time financial assistance to 2,085,000 affected workers to private companies including those in the tourism industry and the sector of education," he said.
"A total of PHP10,453,000,000 was distributed as of July 12, 2021," he added.
He said the beneficiaries under CAMP are formal sector workers.
On the other hand, Bello said over 1 million workers from the informal sector have benefited under TUPAD by providing emergency employment assistance to them. Beneficiaries were paid based on the prevailing minimum wage in the region where they were hired.
"We were able to provide jobs to over 1,300,000 workers in the informal with a total amount of PHP6.8 billion as of June 30, 2021," he added.
Bello said OFWs who have returned to the country and those opted to stay in the host countries where they are employed, are AKAP beneficiaries
"Under AKAP, the DOLE distributed PHP10,000 or USD200 financial assistance to 536,764 displaced OFWs in the amount of PHP5,441,000,000 as of July 2021," he said.
"Through the Overseas Workers Welfare Administration (OWWA) we were able to send home under the repatriation program and provided assistance such as financial, food, accommodation, and transportation to their home provinces a total 665,339 affected OFWs. We spent the PHP18,600,000,000 which you gave," Bello added.
The government started repatriation of displaced OFWs in May 2020 due to the pandemic. (PNA)