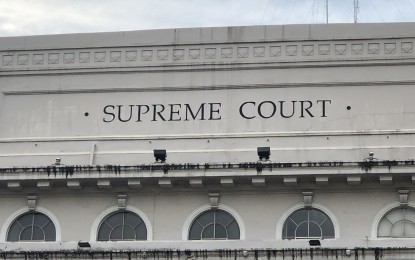 MANILA – The Supreme Court (SC) has granted a petition filed by the Philippine National Construction Corporation (PNCC) which had questioned a ruling by the Court of Appeals (CA) ordering it to reinstate the grant of midyear bonus to its employees, which had been abrogated by the PNCC management in 2013.
In its decision promulgated on June 23 and made public recently, the High Court's Second Division granted PNCC's petition for review, saying "the labor arbiter, the NLRC (National Labor Relations Commission), and the CA each gravely erred when they peremptorily compelled PNCC to release the questioned midyear bonus to the employees."
The CA and the labor arbiter said the decision to remove the midyear bonus violated the rule which prohibits employers from "diminishing" benefits regularly received by employees.
The SC said "PNCC did not violate the non-diminution rule when it desisted from granting midyear bonus to its employees starting 2013" even as between 1992 and 2011, the PNCC regularly granted this benefit to its employees and never before revoked the said bonus.
"With the subsequent enactment of RA (Republic Act) 10149 in 2011, PNCC may no longer grant this benefit without first securing the requisite authority from the President. PNCC failed to obtain this authority in view of the position taken by the Governance Commission on GOCCs (GCGs) not to forward the request to the President citing the infirmity of the grant and extraneous application of the non-diminution rule thereto," the SC said.
The SC also said although governed by the Labor Code, the PNCC, as a government-owned and controlled corporation (GOCC), is not exempt from the coverage of the National Position Classification and Compensation Plan approved by the President.
The PNCC was originally formed as the Construction and Development Corporation of the Philippines (CDCP) in 1966 and was granted a 30-year franchise to construct, operate and maintain toll facilities.
In the course of its operations, CDCP obtained loans from government financing institutions (GFIs). These unpaid obligations were later converted into shares of stocks and a change of name to PNCC was made to reflect the extent of the government's investment in the company.
In 1992, the PNCC started giving midyear bonus to its employees under a collective bargaining agreement (CBA) with its employees' union.
The grant of the bonus continued long after the CBA until 2013 when then PNCC president and chief executive officer Luis Sison sought an opinion from the GCG on the propriety of continuing the bonuses.
The GCG, however, informed PNCC that it was no longer forwarding the request for approval of the midyear bonus scheme to the President as it was legally infirm and that it may be abrogated without the violation of the non-diminution rule.
The PNCC employees were subsequently informed that their 2013 midyear bonus would no longer be released, prompting the labor case. (PNA)