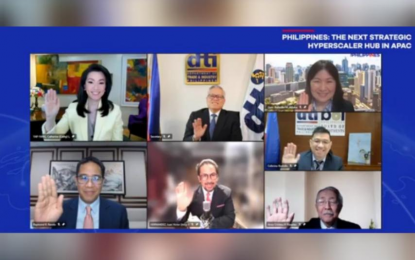 MANILA – At least two hyperscale companies will locate in the Philippines this year, Department of Trade and Industry (DTI) Undersecretary Ceferino Rodolfo said Wednesday.
Rodolfo, who is also the managing head of the Board of Investments (BOI), said these companies are from China and the United States.
"Since this is a new industry, (the interests) range from exploratory to advanced… Within this year, we could have at least two hyperscaler investors coming in," Rodolfo said in a virtual event promoting the Philippines as a strategic hub for hyperscalers in the Asia Pacific region.
He said these firms are still studying the green energy market here as a main driver, as well as the data privacy regulatory framework in the country.
Aside from these two companies, many hyperscalers are eyeing to put up their infrastructure in the country.
Hyperscalers are firms that offer scalable data storage services.
Examples of these companies include Alibaba Cloud, Amazon, Facebook, Google, and Microsoft, among others.
DTI Secretary Ramon Lopez said the Philippines is a prime location for hyperscalers as the country tops in social media and internet usage worldwide.
Citing data from the 2021 Digital Report, e-commerce adoption in the Philippines grew from 76 percent in 2020 to 80.2 percent in 2021.
The country also has 89 million active social media users.
According to global social media use ranking, the Philippines ranked 6th in Facebook, 10th in YouTube, 11th in Twitter, and 18th in Instagram.
Citing data from Frost & Sullivan, Lopez said the Philippines is one of the countries with high growth in projected data center supply for the next three to five years, growing at an average of 24 percent.
"The Philippines' digital landscape makes it an ideal setting for hyperscalers," he added.
Meanwhile, data centers of hyperscalers require huge power supply, hence firms are looking at renewable energy sources to ensure low carbon emission in their operations.
In the same event, Department of Energy (DOE) Undersecretary Jesus Cristino Posadas said the government has been pushing for policies that would ramp up renewable energy in the country.
Between 2009 and 2020, some PHP221.35 billion worth of renewable energy projects were installed, adding a total capacity of 2,339 megawatts of clean energy, he said.
Posadas said the renewable energy's share in the capacity mix is at 29 percent.
As of May 2021, Posadas said the DOE has awarded 928 renewable energy contracts that are expected to add 30 gigawatts of power. (PNA)