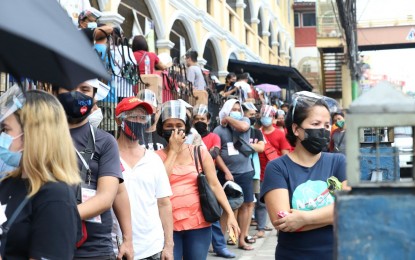 MANILA – The Department of Health (DOH) on Thursday clarified that the projected average of 30,000 Covid-19 cases per day in the National Capital Region (NCR) by the end of September is "not cast in stone" and can still change.
In a statement, the DOH said changes may happen as local government units (LGUs) implement targeted and granular lockdowns, enhancing active case finding, and fast-tracking vaccination.
"Based on a set of assumptions, daily cases in NCR for September 30 may range from 16,000 to 43,000. The assumptions used included mobility, public health and healthcare capacities and system, and the public's adherence to the minimum public health standards (MPHS)," the DOH said.
The figures are used to guide the government for better preparation in its Covid-19 response, especially with the highly contagious Delta variant, the DOH added.
With the high daily case projections, the DOH called on the national government and the LGUs to lower the interval between case detection to isolation, strictly monitor the public's adherence to the minimum public health standards and further ramp up vaccination coverage to lower the daily cases in the NCR. (PNA)