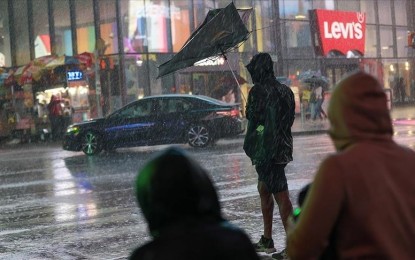 MANILA – No Filipino has been reported hurt as remnants of Hurricane Ida triggered massive flooding across the northeastern United States, including New York and New Jersey.
"(There are) no reports yet of Filipinos affected in the 10 US Northeast states covered by the Consulate in New York City, although an advisory was posted asking kababayan to heed instruction from local authorities," Foreign Affairs Assistant Secretary Eduardo Meñez said Thursday night.
At least eight people have died as relentless rain and massive flooding sent the New York City area into a state of emergency Thursday morning.
Meñez said there are around 236,000 to 280,000 Filipino-Americans residing in New York and New Jersey.
Ida made landfall in Louisiana on Sunday as a category 4 hurricane with maximum sustained winds of 150 miles per hour, one of the strongest to hit the mainland US.
Officials downgraded Ida to a tropical storm on Monday evening but maintained warnings of dangerous storm surges and heavy rainfall. (PNA)