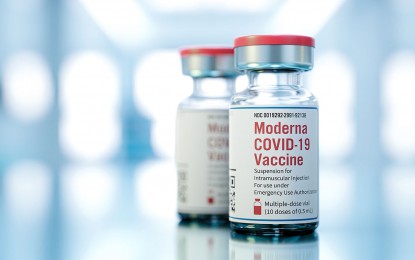 MANILA – The Philippine Food and Drug Administration (FDA) has officially approved the use of the Moderna Covid-19 vaccine for adolescents, allowing it to be administered to those aged 12 and up.
In a Laging Handa briefing on Friday, FDA Director General Undersecretary Eric Domingo said Moderna applied for an amendment on the emergency use authority (EUA) on their vaccine two weeks ago and has since been approved by vaccine experts and the FDA's regulatory body.
"In-approve na namin ngayong araw na ito ang paggamit—under EUA—ng Moderna vaccine aged 12 to 17 (We have approved this day the use—under EUA—of the Moderna vaccine for those aged 12 to 17)," Domingo said.
Domingo urged health professionals responsible for administering the vaccine to watch out for "very rare" occurrence of myocarditis—or heart inflammation, similar to other mRNA vaccines like the Pfizer BioNTech.
"Nakikita sa mga very few, very rarely, siguro few in several million, at mas nakikita sa mga younger males. So ito lamang ang dapat bantayan (It can be found in very few, very rarely, maybe few instances in several million and more common in younger males. So, this is what we need to watch out for)," Domingo said.
With the increasing cases and the community transmission of the highly infectious Delta variant of the coronavirus, he said experts have found that the benefits of the vaccine "outweighs the risk".
He noted that Moderna has applied for full approval with the US FDA and results are expected to be released within the month.
Not contaminated
He said the batches of the Moderna vaccine available in the country are safe to use despite reports that Japan has suspended its administration of the vaccine due to contamination.
"Kinonfirm naman natin 'yung mga doses na dineliver sa Pilipinas ay hindi po kasama sa batches under investigation (We have confirmed that the doses delivered to the Philippines are not included in the batches under investigation)," Domingo said.
He said at least three batches of the vaccine are currently being investigated for having stainless steel particles possibly caused by damaged machinery in its assembly line.
He noted that the findings on the contaminated batches have so far shown no effects on the vaccine's safety and efficacy.
"Dito po satin ay tuloy po ang paggamit ng Moderna vaccine (Here in our country, we will continue using the Moderna vaccine). At this time, there's no reason to stop it," Domingo said.
He also reminded vaccinators on the importance of inspecting vaccine vials prior to aspiration and injection to ensure its safety. (PNA)