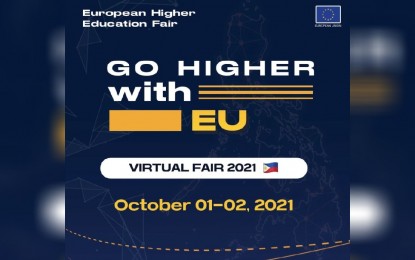 MANILA – The Delegation of the European Union to the Philippines will connect Filipino students to universities in Europe through its annual education fair.
The pandemic's challenges should not stop the pursuit of higher education, the group said in a statement issued on Friday.
"Since last year, the Fair has embraced the digital transformation by staging the most exciting higher education fair online. This makes the event more accessible to Filipino students, academicians, researchers, and university officials from across the country," it added.
The virtual European Higher Education Fair (EHEF) 2021 will be held on October 1 and 2 with the theme "Go Higher with EU" via the EU's official Facebook page.
This is the second year the EHEF is being staged online due to the pandemic but the delegation is optimistic the virtual version could attract more potential students.
Starting September 10, the EU will also open virtual booths with representatives of various European higher education institutions ready to answer questions from students who are interested to study in any of the EU member states.
The online fair culminates with free webinars about specialized courses, programs, and scholarships.
Last year, the EU recorded about 8,000 EHEF registrants.
Regional partner institutions for this year are the Wesleyan University (Luzon), Silliman University (Visayas), and Xavier University - Ateneo de Cagayan (Mindanao), which will host clustered presentations for students and other interested members of the academe.
University partners are the Ateneo de Manila University's European Studies Program, University of the Cordilleras, Lyceum of the Philippines University - Batangas, Trinity University of Asia, Visayas State University, Jose Rizal Memorial State University, and Mindanao State University's (Marawi) College of Public Affairs. (PNA)