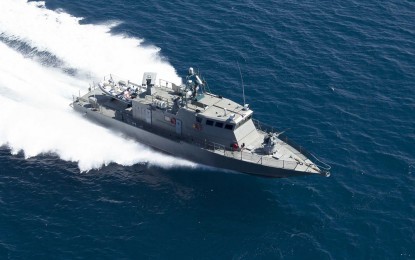 MANILA – The Philippine Navy (PN) said the acquisition of eight units of fast attack interdiction craft-missile (FAIC-M) will complement its 12 multipurpose attack craft (MPAC) previously acquired to secure the country's coastal waters and maritime territories.
"This acquisition aims to strengthen the country's naval capability in terms of enhancing littoral defense and maritime interdiction operations as it will complement the previously acquired 12 MPAC of the PN," Navy spokesperson Commander Benjo Negranza said in a message to the Philippine News Agency Saturday night.
Three of the MPACs are armed with the Rafael Advanced Defense Ltd. Spike-ER (extended range) surface-to-surface missile system while three more are scheduled to be installed with the same weapon system.
Negranza said the acquisition of eight units of FAIC-M is among the 2019 projects approved by President Rodrigo Roa Duterte under the Horizon 2 List of the Revised Armed Forces of the Philippines Modernization Program.
"The first two units of the FAIC-M (are) estimated to arrive in-country around the last quarter of 2022," he said.
He also said the FAIC-M project was awarded to Israel Shipyards Ltd. and Rafael Advanced Defense Systems of Israel under a government-to-government procurement scheme and is divided into two lots.
"Lot 1 covers the delivery of nine platforms, four of which will be missile-capable, and the upgrading of the Naval Shipyard (NSY) for the establishment of a local production line as part of the Transfer of Technology (ToT). On the other hand, Lot 2 includes the integration of weapons and combat systems," Negranza said.
Former PN chief Vice Admiral Giovanni Carlo Bacordo earlier said the FAIC-M Project Contract was signed on Feb. 9, 2021 while the Notice to Proceed was signed last April 27.
The FAIC-M project, which is worth around PHP10 billion, had its Notice of Award issued on Jan. 5, 2021.
Reports said the Israeli shipbuilder will be supplying its Shaldag Mark V for the Navy's FAIC-M project.
Bacordo said successful negotiations with the Israeli shipbuilder resulted in the addition of one Shaldag Mark V unit to the eight boats initially ordered without any extra cost to the Philippine government.
The FAIC-Ms is expected to replace the force of patrol killer medium (PKM) or medium-sized patrol craft.
Once deliveries of the FAIC-Ms are completed, these vessels can interdict surface threats and launch non-line-of-sight missiles safely using the surrounding littoral areas as maneuver space and cover. (PNA)