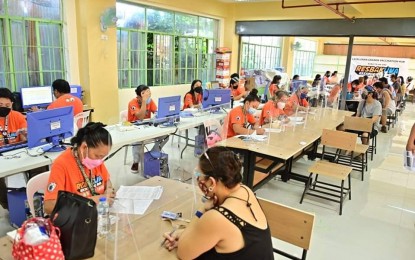 DAVAO CITY – As the city government ramps up its vaccination program, Barangay Catalunan Grande kicked off its inoculation drive, in coordination with the offices of the city government and 1st District Rep. Paolo "Pulong" Duterte.
In a statement Sunday, Catalunan Grande headed by village chief January Duterte opened Saturday afternoon a hub to facilitate the inoculation of its constituents and other residents from neighboring barangays.
The program aims to help the city reach its goal to achieve population protection by speeding up vaccination drives and making it more accessible to its community.
The city government is targeting to vaccinate 70 percent of its total population, or 1.2 million residents, to achieve population protection.
Dr. Ely Buenaventura, City Health Office (CHO) rural health physician, said Catalunan Grande was the first barangay in the city to roll out the Sinopharm vaccines.
"As of today, we have 600 available vaccines for a start," he said.
Buenaventura said the newly-opened vaccination hub targets to inoculate 500 residents per day.
"We make sure that the process of giving vaccination to registered individuals will be smooth. If the flow is systematic, we can vaccinate an estimated 1,000 or more people in a day," he added.
Buenaventura said 100 personnel, 22 of them are registered nurses, and three physicians, will facilitate the entire process and administer the vaccination.
As of Saturday afternoon, Duterte's office said the 461 individuals who earlier registered received their first dose of the Sinopharm vaccine.
The barangay vaccination hub will operate every Saturday and Sunday from 8 a.m. to 5 p.m.
For registration, the residents may contact their respective district leaders or visit their barangay health center.
The successful opening of the vaccination hub was made possible through the help of the Department of Health, CHO, Department of Education, and "Pulong-Pulong ni Pulong" generous sponsors. (PNA)