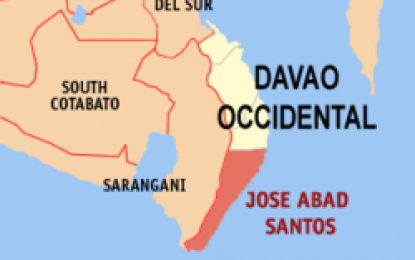 DAVAO CITY – Religious gatherings are temporarily prohibited in Jose Abad Santos (JAS) town in Davao Occidental due to the increasing coronavirus disease 2019 (Covid-19) cases in the province, its Mayor Jason John Joyce said.
"This is not only applied on Sundays. We will just do our prayer and worship in our respective homes. All churches and mosques must be closed," he said Saturday in a public post.
Joyce said the town also imposed a boundary lockdown every Sunday.
"No one is allowed to go out and come in(to) the municipality every Sunday. It is the time where our front-liners in Barangays Mangile and Kitayo would rest. It is also our support to our neighboring barangays in Sta. Maria and Malita which also imposed a no Sunday movement policy," he added.
Joyce said only essential travel is allowed on weekdays while the minors and senior citizens are not allowed to go out.
"Those who are coming into JAS without reverse transcription-polymerase chain reaction (RT-PCR) result(s) will undergo a 14-day quarantine," he said.
He added all visitors outside the Davao Region should present negative RT-PCR test results upon entry.
However, Joyce said even residents in Davao Region should also present negative RT-PCR test results, especially if they are coming from cities or municipalities with high Covid-19 cases.
As of Sept. 4, JAS has eight active cases out of the 209 total cases.
The town also recorded seven recoveries on Saturday. (PNA)