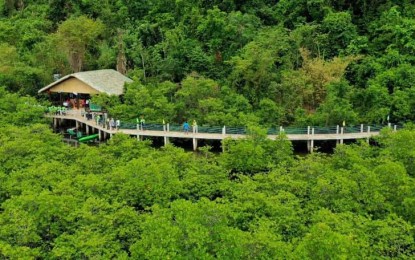 TACLOBAN CITY – The reopening of Lalaguna Mangrove Eco Park (LEMP) in Lavezares, Northern Samar to domestic tourists after more than a year of closure will bring economic opportunities to a women's group.
The Northern Samar provincial tourism office said on Monday that 72 members of the Women's Association for Inter-Island Development (WAIID) of San Isidro village in Lavezares town will directly benefit from this reopening.
"The reopening of LEMP aims to create livelihood and other social enterprise opportunities to the community surrounding the Lalaguna Bay while at the same time promote environmental protection and management," the tourism office said in a statement.
Northern Samar Governor Edwin Ongchuan and other provincial government officials led the reopening on Sept. 1 after it was closed last year due to movement restrictions to prevent the spread of coronavirus disease 2019 (Covid-19).
The 300-hectare eco-park is endowed with green and lush mangroves and crystal-clear waters teem with varied fish species, crabs, and sea urchins, as well as wild birds and eagles, thousands of fruit bats and wild monkeys, which are part of the Biri Larosa (Lavezares, Rosario, and San Jose towns) Protected Landscapes and Seascapes.
Transforming Lalaguna Bay into a mangrove eco-park was a vision of then Lavezares Mayor Quintin Saludaga, inspired by a tour in a mangrove park in Thailand. Saludaga now works as a municipal administrator.
The mangrove area, which is a spooning ground for danggit or rabbitfish or spine foot fish, was also declared as closed for all fishing activities during the months of March, April, and May, identified as the breeding period of fish species.
The former mayor's project was continued by his brother, the incumbent mayor Edito Saludaga.
For the local government, Lalaguna Mangrove Eco-Park is a perfect alternative destination for Biri Rock Formations because its location is an alternate passage among motorboat operators plying from Lavezares to Biri when the seawaters along San Bernardino Strait is rough.
Now that it is open to local tourists, visitors will be treated with additional attractions in the site, the development of the 119 uphill steps of the Kaluy-ahan Trail and View Deck.
The PHP2.7-million development of the Kaluy-ahan Trail and view deck is funded by the provincial government. It involves the construction of a concrete path walk, receiving and dining area, and a view deck in the highest part of the mountain.
Aside from delicious food prepared and served by WAIID members and the panoramic view of the mangrove site from the view deck, the site also offers other experiences such as swimming, snorkeling, stand-up paddle, and boating.
A maximum of 100 visitors per day are allowed to visit the site, and tourists are required to do early booking or reservation by contacting any of these numbers 0946 8237369, 09081676405, 09128893971, and 09493122421 before going to the mangrove eco park. (PNA)