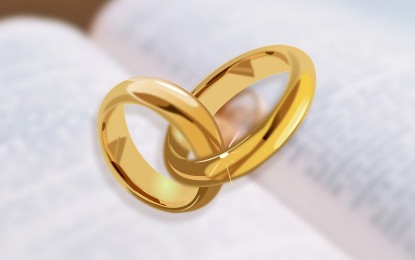 MANILA – The House of Representatives on Monday approved on final reading a measure seeking to end child marriages in the country.
With 197 affirmative votes, 0 negative votes, and 2 abstentions, the chamber passed on third and final reading House Bill 9943, which seeks to protect children by prohibiting and declaring child marriage as illegal and imposing penalties for violations.
Other unlawful acts would be the solemnization of child marriage and cohabitation of an adult with a child outside wedlock.
The proposed law would impose penalties against solemnizing officers, parents, guardians, or adults who fixed, facilitated, or arranged child marriage.
Deputy Speaker Bernadette Herrera, one of the authors of the bill, said child marriage denies children of their childhood, disrupts their education, and limits their opportunities.
Herrera cited the United Nations Population Fund (UNFPA) stating that in developing countries, nine out of 10 births to adolescent girls occur within a marriage or union and these girls are vulnerable to pregnancy-related complications, which are among the leading causes of mortality among adolescents around the world.
"Women and girls' development is hindered by CEFM (child and early forced marriages) as married girls most likely drop out of school and lose the chance to be educated and gain skills and knowledge which will help her gain a good job and earn for herself and her family," Herrera said.
She said the perpetration of violence and gender inequality is another negative impact of CEFM.
Albay Rep. Edcel Lagman, another author of the bill, said the United Nations World Population Prospect ranks the Philippines as the 10th country with the highest absolute number of child marriages at 808,000 in 2019.
"The country's adverse situation is due to the practice of child marriage by Filipino Muslims and indigenous peoples, in addition to co-habitations outside wedlock or illicit live-in unions involving adult men and young girls, which the bill now proscribes," Lagman said.
Lagman said the deleterious effects of child marriage include vitiating marital consent because either or both the child bride or groom are underage to give valid consent; violating the human rights of children under international conventions and domestic laws; compromising the child bride's maternal health and her infant's health and development outcomes; exposing the child bride to economic vulnerabilities as she is deprived of completing her education, attaining adequate work skills, and securing remunerative employment; and perpetuating intergenerational poverty.
He said enactment of the enabling law is assured because the Senate has already approved its counterpart bill prohibiting child marriage
Lagman also said during the bicameral conference between the House and the Senate, a short transition period may be qualifiedly granted to Muslim communities to subsequently fully abide by the ban on child marriage. (PNA)