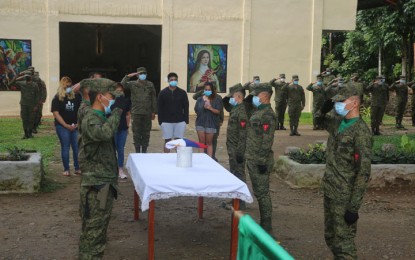 ZAMBOANGA CITY – The troops of the Army's 1st Infantry "Tabak" Division (ID) paid their final respects to their assistant division commander Brig. Gen. Bagnus Gaerlan Jr., who succumbed to coronavirus disease 2019 (Covid-19).
The troops accorded full military honors upon arrival of the urn containing the ashes of Gaerlan's remains at Camp Major Cesar Sang-an in Barangay Pulacan, Labangan, Zamboanga del Sur on Tuesday.
The remains of Gaerlan were cremated early Tuesday at a crematorium in Tangub City, Misamis Occidental, in compliance with the government's guidelines in handling the remains of a Covid-19 fatality.
Capt. Mary Jephte Mañebog, 1ID information officer, said Tuesday that the urn, topped with a Philippine flag, was brought to the Sto. Niño de Tabak Chapel for the wake service.
"There will be a memorial service at 1800 hours (6 p.m.)," Mañebog said.
Gaerlan's wife, Lailanie, their son, and two daughters also attended the military honors. They arrived in Labangan via Pagadian City from Manila on Monday.
Mañebog said a one-night vigil will be held at the Sto. Niño de Tabak Chapel and the ashes of Gaerlan will be brought Wednesday to his native place in San Juan, La Union via Manila.
Gaerlan died around 5:19 a.m. Monday due to acute respiratory failure secondary to Covid-19, according to Dr. Anatalio Cagampang Jr., the hospital chief of Zamboanga del Sur Medical Center (ZDSMC) in Pagadian City.
Gaerlan was rushed to the ZDSMC after testing positive for Covid-19 through a rapid antigen test on Sept. 2. The hospital performed a confirmatory swab test on Sept. 3, which also yielded positive results.
Gaerlan is a member of the Philippine Military Academy (PMA) Class of 1989.
"Bagnus is the fourth member of the class to drop their working tools due to Covid-19," said Maj. Gen. Ernesto Torres Jr., 10th Infantry Division commander and Army chapter president of PMA Class 1989.
Gaerlan has served as the commanding officer of the 44th Infantry Battalion from 2009-2010 and the 5IB from 2010-2012 where he focused on the rationalization of the militia company area jurisdiction and the enhancement of the Civilian Active Auxiliary (CAA) training program.
Before his designation as assistant division commander, Gaerlan was the former 102nd Infantry Brigade (102nd IBde) commander from June 2018 to August 2019, operating in the Zamboanga Peninsula and Misamis Occidental. The brigade is based in Ipil, Zamboanga Sibugay.
During his tenure as brigade commander, he received various honors and recognition for exceptionally meritorious and irreplaceable services provided in a position of considerable responsibility.
Maj. Gen. Generoso Ponio, 1ID commander and the acting commander of the Western Mindanao Command (Westmincom), also sent his heartfelt condolences to the bereaved family. (PNA)