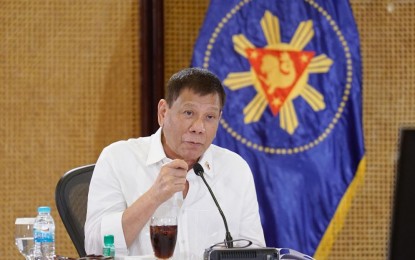 MANILA – It was a race against time to save lives during the start of the pandemic, which meant there was no room for hesitancy or dilly-dallying on the part of the national government.
This was the message of President Rodrigo Roa Duterte during his Talk to the People aired on Wednesday, in response to the Senate Blue Ribbon Committee's probe of the government's procurement of personal protective equipment (PPEs) and other related materials.
"Ang una ko ngang utos pagputok ng pandemya, my first order to Secretary Duque was buy all things kasi namamatay na 'yung mga doktor. Do not go into a bidding because it will delay, and cause more deaths," the President said.
"Mamili ka kung saang palengke, bilhin mo na. That was my order, and I take full responsibility for that," he added.
The President reiterated that the government's spending on COVID-19 response was done with due diligence and above-board saying: "Walang nangyaring corruption sa mga procurement ng gobyerno," he said.
According to Presidential Spokesperson Harry Roque, Jr., the price of PPEs presented during the Senate hearing was misleading, because it (price) was obtained months after the pandemic began.
"Yung (presyo) po na 1,300 ay petsa ng Hunyo. Ang pinag-uusapan natin, magkano ang PPE noong petsa ng Abril, kung saan nagsisimula ang pandemya at talagang nagugulantang ang lahat ng bansa sa daigdig kakakuha ng PPE," Roque said. "Syempre po, dahil ang buwan ng Hunyo ay dalawang buwan matapos ang Abril, dumami ang supply kaya bumaba ang presyo ng PPE."
This series of events was confirmed by Trade and Industry Secretary Ramon Lopez, referring to the prevailing conditions at the time which precipitated the surge in the prices of face masks and PPEs.
"If you talk about March, April or May, mataas pa po talaga ang presyuhan noon. Pagdating sa presyo, talagang malikot at that time, because dati walang naghahanap nyan, then lahat ng citizen, lahat ng Pilipino ni-require natin at a certain point na mag-mask, so ang demand biglang milyon-milyon," Lopez said.
No favors
Meanwhile, Secretary Carlito G. Galvez, Jr., vaccine czar and National Task Force against COVID-19 chief implementer, pointed out that no favors were given to China during the procurement of PPEs,
Galvez said based on President Duterte's orders, PPEs and other protective gear must be acquired immediately.
"Noong panahon po na iyon, kahit na ang U.S., Canada at mga western countries, wala pong makunan ng face masks at PPEs - kumukuha po sila sa China. Hindi po natin fine-favor ang China kasi kung tutuusin po, wala po tayong capacity (to produce PPEs at the time)," he said.
He added that upon evaluating the logistical capabilities of the Department of Health (DOH) during the start of the pandemic, they recommended to the President to utilize the Armed Forces of the Philippines (AFP) to expedite the delivery of PPEs to healthcare workers.
"Bakit natin ginamit ang C130? Kasi po sabi ng supplier, kapag papatay-patay kayo, mawawala 'yung supply, kukunin ng ibang countries, kasi nag-aagawan po ng supply eh. Wala pong lumilipad na (eroplano) noon kasi naka-lockdown po tayo," Galvez said.
The PPEs were then stored in Camp Aguinaldo, because at the time, DOH was already overwhelmed, and most of their personnel were afflicted with COVID-19.
These measures were in line with the Whole-of-Government Approach to combat COVID-19, as mandated by the President, which required the use of all available government resources.
"Wala pong warehouse ang DOH sa pag-iimbak ng mga PPE," Galvez said.
For his part, Secretary Vince Dizon, the testing czar and NTF against COVID-19 deputy chief implementer, attested that the procured PPEs were delivered to their intended recipients.
"I just want to really emphasize that all PPEs that were bought and the masks were all given by Secretary Galvez himself, and the team with Secretary Duque to our healthcare workers, all for free," Dizon said.
Lives were at stake
Early in 2020, Galvez convened the NTF's Task Group Resource Management and Logistics composed of the DOH, Department of Trade and Industry (DTI), Procurement Service – Department of Budget and Management (PS-DBM), and the Office of the Civil Defense (OCD) to work on the large-scale procurement for COVID-19 response supplies.
Under the Bayanihan To Heal As One Act section 4 (K), the government is allowed to "Undertake the procurement of the following as the need arises, in the most expeditious manner, as exemptions from the provisions of Republic Act No. 9184 or the 'Government Procurement Reform Act' and other relevant laws."
Galvez said these included PPE sets that were procured without cost, insurance, and freight (CIF), as the entire country was under lockdown wherein no logistics and cargo flights were allowed to operate.
Under this arrangement, he said the Philippine government shouldered the transport cost of the PPEs.
Galvez said the NTF made arrangements for three C130 flights, six Philippine Airlines chartered flights and 12 Cebu Pacific chartered flights to transport the PPEs.
He said the Task Force had to tap the services of commercial airlines as a C130 aircraft was only capable of carrying 12,000 PPEs per flight.
The Philippine Navy's BRP Bacolod, he added, was only used once to pick up the 200,000 PPE sets from Xiamen, China, and directly deliver them to Davao City.
He said the first tranche of PPE sets procured from China consisting of 288,000 sets started to arrive on April 6, 2020.
This was followed by bulk supplies imported from China which were directly delivered to the cities of Cebu, Davao, Cagayan de Oro, and Manila. The Philippine government did not provide C130 flights to Pharmally since the CIF was paid by the supplier.
The delivery of PPEs continued from May until August 2020 to 699 hospitals, as well as regional and local government offices across the country.
Galvez said 603,500 PPE sets were delivered on May 13, 779,100 sets on May 31, a cumulative of more than 2.2 million sets by July 20, and over 3.8 million sets by August 25.
Based on data presented by the PS-DBM, a total of 12,158,355 PPE sets amounting to Php 14,819,762,000 were procured by the agency.
"We never favored anybody. What we asked was who can produce the 9-piece PPE set with the prescribed DOH specification of medical-grade quality, in bigger volumes and fair price immediately," Galvez said during the Senate Blue Ribbon Committee hearing.
He added that the EMS Components Assembly, a Filipino company tapped by the national government to produce COVID-19 response supplies, are manufacturers of d medical-grade face masks and not PPEs.
He said the company started delivering face masks procured by the PS-DBM in June 2020.
EMS Components Assembly, Galvez said, imported their raw materials at their own cost and delivered the face masks at their own expense as well.
"In order for us to compare properly, it is important to look at what supplies were bought from whom and when the deliveries arrived in the country," said Galvez.
"Let me underscore, the deal we have made is free from corruption. We want to reassure the public that our main intention is to save more lives and bring life-saving PPE sets to our front liners, especially the healthcare workers," Galvez said.
"We are debunking the allegations made by some of our Senators that the transfer of funds from DOH and DBM was a 'pre-planned plunder.' The unfair accusation maligns the government's anti-Covid response without considering its negative ramifications to the people's morale and integrity," Galvez emphasized.
During the hearing on Sept. 7, Commission on Audit Chairman Michael Aguinaldo clarified that their audit report is on the inventory management of the PS-DBM and does not say anything on the alleged overpricing of the medical supplies.
"The findings of auditing that handles PS-DBM really pertained more to inventory management and not the overpricing," Aguinaldo said.
"What we are asking from some of our Senators is a sense of fairness and truth, and not castigating us under the presumption of guilt and baseless associations or scenarios. What is happening is that we are being stripped of our honor and integrity in public," Galvez urged.
"We welcome any legislative remedies to address the gaps and weaknesses in the process especially during a crisis situation since we all have the same mission and that is to save lives and safely exit from this pandemic," he added. (PR)