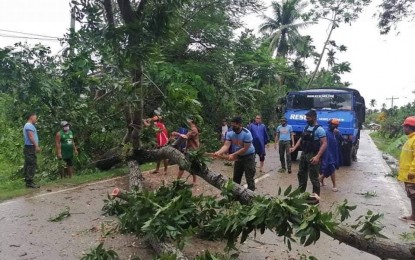 MANILA – The number of families affected by Typhoon Jolina has reached a total of 20,777, the National Disaster Risk Reduction and Management Council (NDRRMC) said Thursday.
In its 12 noon update, the agency said this is equivalent to 83,650 persons residing in 341 villages in Central Luzon, Mimaropa, Bicol, Western Visayas, Eastern Visayas, and the National Capital Region.
The NDRRMC added that 120 evacuation centers are now serving 1,943 families or 7,538 individuals while the rest of the affected population are either being aided outside or taking shelter with friends and relatives.
One was confirmed dead along with 17 others missing.
Meanwhile, reports of two deaths, four injured, and 14 other missing persons are still being validated.
The estimated damage to agriculture was placed at PHP206.1 million in Mimaropa, Bicol, Western Visayas, and Eastern Visayas. A total of 3,843 houses were reported damaged in these regions.
Of these, 3,545 were reported as partially damaged while 298 were totally damaged.
The amount of infrastructure damage was estimated at PHP24.7 million in Mimaropa, Bicol, and Western Visayas.
Meanwhile, Philippine National Police chief Gen. Guillermo Eleazar on Thursday ordered local police offices and units in Northern Luzon to be on alert for the possible onslaught of Typhoon Kiko.
In a statement, Eleazar said local police officials must be present in the meetings and in crafting measures to ensure the safety of local residents.
Police assets, including trucks and other vehicles, are also expected to be placed on standby for preemptive evacuation, along with enough policemen to assist the local officials.
Eleazar urged the public to remain vigilant and follow the instructions of local officials in preparation for the typhoon.
"Kiko" packs maximum sustained winds of up to 195 kilometers per hour (kph) near the center and gustiness of up to 240 kph is expected to dump rains over areas in the extreme Northern Luzon beginning Friday. (with Lloyd Caliwan/PNA)