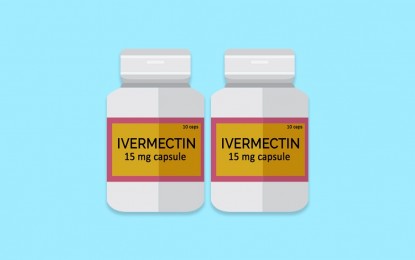 MANILA – President Rodrigo Duterte has left to the medical professionals and their patients the decision to use anti-parasitic drug Ivermectin to prevent or treat the coronavirus disease 2019 (Covid-19).
Duterte made the remarks in a pre-recorded Talk to the People delivered Friday night but aired Saturday morning.
He said he would let anyone who wants to take a "good gamble" in terms of trying the effectiveness of Ivermectin against Covid-19.
"I leave it really to the doctor-patient relationship. If the doctor believes in good faith that it can help, and the patient also believes in his heart that he will get well, we leave it up to you to decide," Duterte said.
The Department of Health (DOH) has repeatedly warned the public against the use of Ivermectin as preventive medicine against Covid-19.
Despite the repeated warnings against Ivermectin, some individuals continue to take the anti-parasitic drug as a cure for the coronavirus.
Duterte said he could not ignore the claims that Ivermectin is effective in treating Covid-19 patients.
"Kasi mahirap naman masisi na kung totoo talagang effective tapos pipigilan mo with the testimony bound, plus 'yung maraming taong nagsabi na gumaling sila (So, it's hard to be blamed if it's really effective and you will stop them despite testimonies and claims of some that they recovered [because of Ivermectin]. So for some people, it would be quite a good gamble to embark on," he said.
The registered Ivermectin products in the country can only be used for certain animal species to treat internal and external parasites, as well as prevention of heartworm disease.
The Food and Drug Administration has allowed the compassionate use of Ivermectin for Covid-19 patients.
On the other hand, the Department of Science and Technology (DOST) is set to begin the clinical trials on the safety and effectiveness of Ivermectin in treating Covid-19 patients in September this year.
The trials, the DOST said, would run for eight months.
Duterte said he would just depend on the government's "narratives" for now since there are still no "actual" and "definite" findings yet on Ivermectin's effectiveness.
"Everything is in quandary. Kani-kaniyang ano pero (they have different claims but) there [are] no actual, definite findings [yet]," he said. "Since I am with government, I am a worker of government, I rely on the work and the narratives of the government sector." (PNA)