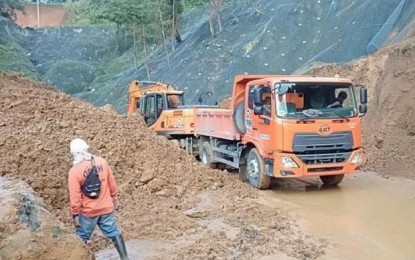 MANILA – Two road sections have been closed while four other roads have limited access due to the effects of Typhoon Jolina, the Department of Public Works and Highways (DPWH) reported on Saturday.
Citing the monitoring report of the Bureau of Maintenance, the agency said the road sections that are closed to traffic are in Bongabon, Nueva Ecija and Ternate, Cavite due to landslides.
Clearing works are ongoing on the Nueva Ecija-Aurora Road in Barangay Labi, Bongabon and Ternate Nasugbu Road in Barangay Sapang II, Ternate, with the Tagaytay Batangas via Tuy Road as an alternate route.
Meanwhile, four road sections have limited access in Luzon and Visayas -- Nueva Ecija - Aurora Road, Diteki River Detour Road due to flooding, and Jct. Pinagpanaan-Rizal Pantabangan Road in Barangay Bicos in Rizal town due to damaged deck of Bicos Bridge I.
Only light vehicles are allowed at the Batangas-Tabangao-Lobo Road, Sta., as bad weather aggravated the already damaged seawall and road slip caused by typhoons Rolly and Quinta last year.
In Leyte, the Jaro-Dagami-Burauen-Lapaz Road in Marabong Bridge, Barangay Moging, Burauen, Leyte is only open to light vehicles due to scoured slope protection bridge abutment. Heavy vehicles that will travel from Burauen to La Paz may take Burauen-Julita-Dulag-Mayorga-La Paz.
It added other national roads and bridges in other affected regions are passable to all types of vehicles.
Meanwhile, the DPWH said its maintenance crew and equipment are ready to respond in areas that will be affected by Typhoon Kiko. (PNA)