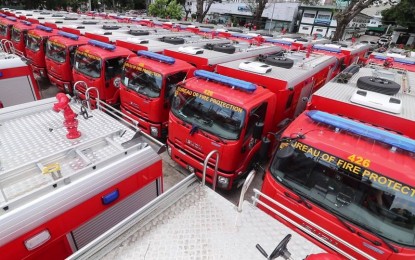 MANILA – The new modernization law will help the Bureau of Fire Protection (BFP) assume its new role as one of the lead agencies in disaster and emergency responses, aside from its traditional mandate of firefighting, BFP officer in charge Director Louie Puracan said.
This, after President Rodrigo Roa Duterte signed into law Republic Act 11589 or the BFP Modernization Act on Sept. 10, kicking off a 10-year modernization period that is expected to transform the BFP into a modern and world-class institution.
"With this law, the BFP will be funded with the assumption of its new role as the lead agency in disaster and emergency medical responses, aside from its traditional role of firefighting as specified in Executive Order 56, otherwise known as the establishment of the National Emergency Hotline 911 of the current administration," Puracan said in a statement on Saturday.
He said the modernization law is a welcome development that will greatly improve the BFP's capability in responding to fires and other disasters nationwide.
"The signing of Republic Act 11589, or the BFP Modernization Act of 2021 by our President Rodrigo Roa Duterte is a much welcome development as the Bureau of Fire Protection directs its efforts on improving the fire protection and disaster response services of the country," he added.
Puracan also said the BFP is truly privileged that they are given this much attention to be developed at par with globally acceptable standards.
He said the vision of the agency to be a modern fire service, fully capable of ensuring a fire-safe nation by 2034, will be much more attainable, thanks to the regular funding of equipment, fire stations, including the recruitment and training of its personnel, to address the ever evolving needs of the Filipino people in terms of destructive fires, floods, earthquakes, volcanic eruptions, and also, in terms of contribution to the fight of the nation against the Covid-19 pandemic.
"We would like extend our utmost appreciation to the men and women who have toiled hard in the passing of this law, and to its authors and sponsors -- Senator Ronald "Bato" Dela Rosa, Senator Bong Go, Senator Tito Sotto, Senator Bong Revilla, Senator Pia Cayetano, Senator Francis Tolentino, Senator Sonny Angara, Senator Grace Poe, Senator Manny Pacquiao, Senator Migz Zubiri, Senator Ralph Recto, Senator Joel Villanueva, Senator Imee Marcos, Senator Cynthia Villa, Senator Win Gatchalian, Senator Richard Gordon, Representatives Narciso Bravo, Michael Edgar Aglipay, Joey Salceda, F. M. Romualdez, Manuel Cabochan, and Joseph Stephen Paduano," he added. Republic Act 11589,
In signing the new law, Duterte said it will not only guarantee the safety of the BFP personnel but will hone their skills and expertise in areas of fire prevention.
"This will consistently guarantee our safety and become the source of pride. It is my hope that this milestone will further inspire the men and women of the BFP to hone their skills and expertise in areas of fire prevention and suppression as well as emergency, medical response and disaster preparedness and resilience," said.
RA 11589 mandates the BFP to develop and implement a fire protection modernization program that includes the acquisition of modern fire equipment, the expansion of the BFP's manpower, and the provision of specialized training for firefighters, among others.
The BFP shall also be mandated to conduct monthly fire prevention campaigns and information drives in every local government unit.
The new law is one of the Duterte administration's priority measures. (PNA)