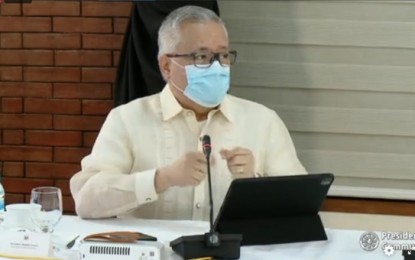 MANILA – Department of Trade and Industry (DTI) Secretary Ramon Lopez has endorsed tweaking of community quarantine protocols by allowing more mobility for fully vaccinated individuals.
During President Rodrigo Duterte's Talk to the People aired over the weekend, Lopez told Duterte that "it is about time to change our protocol" in terms of easing some restrictions for the vaccinated population.
"We were discussing the need to have (a) different approach in terms of solving Covid-19 (coronavirus disease 2019); not just lockdowns," he said in mixed English and Filipino.
The DTI chief said under the new protocol, fully vaccinated individuals could be allowed in restricted economic activities, such as dine-in services in restaurants and personal care services.
He said this would allow safe reopening of the economy as fully vaccinated people have protection against the Covid-19.
People with complete vaccines are unlikely to develop severe to critical Covid-19, he added.
"These are labor intensive. These sectors, there are 2 million individuals employed in dine-in restaurants. In salons, there are around 400,000. This is nationwide," Lopez said.
The trade official said this could be pilot tested in Metro Manila, as the National Capital Region has more than 50 percent of its eligible population for Covid-19 vaccines already got their jabs.
Lopez said the guidelines for this protocol are currently being finalized. (PNA)