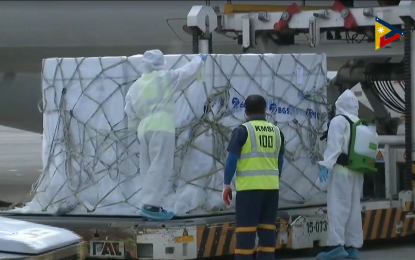 MANILA – The country needs to vaccinate 20 million individuals from the adolescent and pediatric groups if it wants to upgrade its herd immunity targets.
This, as National Task Force against Covid-19 Chief Implementer Carlito Galvez Jr. led the welcome ceremony for the 2 million doses of Sinovac Covid-19 vaccine at the Ninoy Aquino International Airport (NAIA) Terminal 2 in Pasay City around 7:20 a.m. Monday.
"If we want upgrade herd immunity by scale to 80-90 (percent), we need to vaccinate 20 million from the adolescent and pediatric," he said in a media interview.
Galvez, however, said the vaccination of those 18 years old and above must be completed first as recommended by the Philippine Medical Association and its Pediatrics Society head in a meeting last Sunday.
"Ang kanilang recommendation ay unahin muna natin yun 18 (years old) and above, pag natapos na ang 18 (years old) and above natin we can proceed (to the) 17 (years old) and below (Their recommendation is to vaccinate first the 18 years old and above and once this is completed, we can proceed to the 17 years old and below)," he said.
Galvez, also a vaccine czar, said expanding the country's Covid-19 vaccine coverage will help counter the threats posed by the fast-spreading Delta variant.
The government earlier planned to inoculate 70 percent of the country's adult population.
While no date has been set yet for the vaccination of the individuals from the adolescent and pediatric groups, Galvez said dependents of health care workers (A-1) and those with comorbidities (A-2) will be prioritized once it starts.
Galvez said 56.7 million of assorted Covid-19 vaccines have been delivered so far in the country as he lauded Sinovac and China for its "very steady deliveries" of the life-saving jabs.
He said the new shipment of 2 million Sinovac vaccines is part of the 12 million doses ordered for September that was negotiated and procured from the Chinese vaccine manufacturer.
Majority of the Chinese-made vaccines delivered Monday will be deployed to Regions 3 (Central Luzon), 4-A Calabarzon, 6 (Western Visayas), 9 (Zamboanga Peninsula), 11 (Davao), and other "surge areas" along with 151 highly urbanized cities.
Another 10 million Sinovac doses are expected to be delivered by October, Galvez said.
"And then later, we will have (more) deliveries of more Pfizer, AstraZeneca and also Moderna," he added.
He said 5.5 million doses of Pfizer vaccine are expected to be delivered through COVAX Facility later part of September. (PNA)