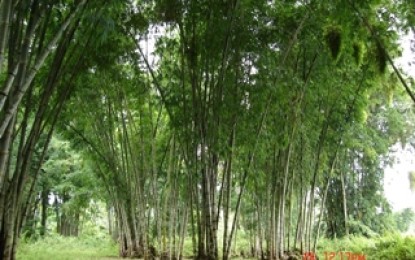 MANILA – The Department of Environment and Natural Resources (DENR) is promoting bamboo-planting as a climate change mitigation strategy.
Bamboo not only thrives in the country and is among the government's priority reforestation species but this grass is also good in sequestering or absorbing carbon dioxide (CO2) which is among greenhouse gases (GHGs) driving climate change, noted DENR Secretary Roy Cimatu.
"It's not just economics that makes bamboo attractive for reforestation -- bamboo is also ideal for climate change mitigation," he said during the virtual summit on re-imagining, developing and sustaining mining communities with bamboo on Sept. 10.
Studies show bamboo can sequester more than 5.0 tons of CO2 per hectare annually, he noted. "That's quite a big reduction in our CO2 emissions."
Human activities like fossil fuel-based power generation are among sources of such emissions.
Experts said emissions of CO2 and other GHGs accumulate in the atmosphere and trap heat there so global temperature rises, changing climate.
The Philippines accounts for less than 1.0 percent of global GHG emissions but is among countries most at risk for and vulnerable to climate change's impacts, they noted.
Such impacts are increasing the onslaught of extreme weather events as well as sea level and temperature rise, they said.
Despite not being a major emitter, the country still aims to achieve a mitigation target of 75 percent GHG emission reduction and avoidance by 2030.
According to DENR's Ecosystems Research and Development Bureau (ERDB), the Bamboo Plantation Development Project of the expanded National Greening Program (NGP) aims to use bamboo in rehabilitating - from 2017 to 2022 - one million hectares of denuded uplands inside the country's critical watersheds.
Such rehabilitation targets to help alleviate poverty while promoting food security, environmental stability, biodiversity conservation and climate change mitigation, noted ERDB.
"The areas to be developed and rehabilitated include critical watersheds, marginal areas, creek lines, riverbanks and areas prone to erosion in order to improve and enhance the natural defenses and resilience of those areas and its adjacent sites against the impacts of climate change," ERDB said.
Launched in 2011, NGP is the government's most ambitious reforestation bid so far as it aims to green denuded and degraded land nationwide using billions of various seedlings.
NGP's original run ended in 2016 but EO 193 series of 2015 extended this program's implementation to 2028 to cover all remaining unproductive, denuded and degraded forestland in the country.
Areas where DENR is spearheading bamboo-planting include banks of Cagayan, Bicol and Marikina rivers.
Planting bamboo will help prevent river banks there from eroding, noted Cimatu.
"Bamboo is also protection against soil erosion," he said.
The government is rehabilitating Cagayan, Bicol and Marikina rivers to help improve water flow and carrying capacity there, he continued.
Data he presented during the government's "Pamana ng Pagbabago" forum earlier this year showed workers already removed almost 414,000 cubic meters of dredged materials from such rivers.
Workers were also able to plant there nearly 255,000 bamboo culms and other species, he added. (PNA)