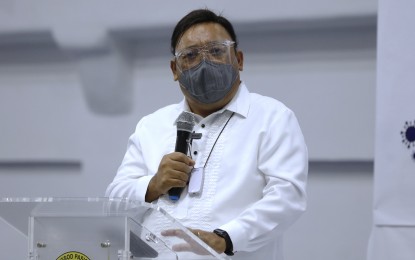 MANILA – President Rodrigo Roa Duterte has "legal basis" to require government officials to get his consent before attending Senate probes, Malacañang said on Tuesday.
Presidential Spokesperson Harry Roque made this statement after Duterte said Cabinet officials invited to Senate hearings on the deficiencies in the government's use of Covid-19 pandemic funds will have to seek his clearance first.
He said Duterte could issue a document similar to Executive Order (EO) 464 issued by then President Gloria Macapagal-Arroyo in 2005, which required all heads of departments of the Executive Branch to secure the consent of the President prior to appearing before any congressional probe.
Citing the High Court's 2008 ruling on the case Romulo Neri vs. Senate, Roque said the Senate's contempt power is limited.
"He (Duterte) could and of course we have the decision in Neri where the Supreme Court said na talagang hindi dapat i-contempt kapag hindi po pina-attend sa isang hearing ang isang miyembro ng Gabinete alinsunod po sa pag-uutos ng Presidente mismo (that they cannot be cited in contempt if they will be prohibited from attending a hearing by order of the President himself) because they're alter egos of the President. So there's legal basis for that kung gagawin po 'yan ng Presidente (if the President will do it)," he said in a Palace press briefing.
Asked to clarify when Duterte's order will take effect, Roque said he is still not sure.
"I cannot say for certain but the President did mention that possibility," he added.
Roque also echoed Duterte's remark about politics being behind the Senate's inquiry into the government's medical supplies contracts.
"Ang sabi po ng Korte Suprema, number one kinakailangan yung imbestigasyon in aid of legislation. Kapag malinaw po na in aid of election, e hindi na po 'yan dapat payagan ng ehekutibo (The Supreme Court said, number one, investigations should be done in aid of legislation. If it is clear that it is done in aid of election, the executive should not allow it)," he said.
He said the Senate should show that they are serious about improving existing laws or enacting new laws.
"Kinakailangan malinaw kung ano yung lehislasyon na nais ipasa ng Kongreso alinsunod po sa ginagawa nilang mga hearing (It should be clear what kind of legislation the Congress wants to pass based on the hearings they are conducting)," he added.
Roque acknowledged the power of the Senate to conduct inquiries in aid of legislation but reminded them that only the judicial department and Ombudsman can determine the guilt or innocence of those accused of violating the criminal laws.
"There is actually equality [among] three different branches of government. Ang pagde-determine naman ng guilt o innocence ng isang tao ay nakasalalay po sa Hudikatura at saka sa Ombudsman (The power to determine guilt or innocence of a person lies in the Judiciary and the Ombudsman)," he said.
In a prerecorded public address aired Tuesday morning, Duterte said he refused to let the Senate waste any more of government officials' time that should have been used to attend to pandemic-related measures.
"I will require every Cabinet member to clear with me every invitation and if I think he will be called for walang silbi (nothing) except to [be] harass[ed], to be berated in front of the Republic, hintuin ko na 'yan at pagbawalan ko na (I'll stop it and prevent them from attending)," he said. (PNA)