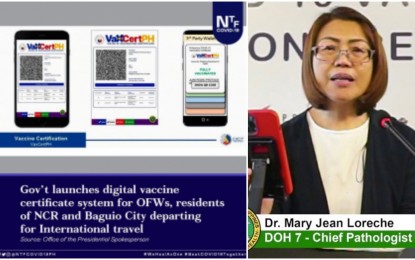 CEBU CITY – The Department of Health in Region 7 (Central Visayas) (DOH-7) on Wednesday urged local government units (LGUs) to fast-track the downloading of vaccinees' data in preparation for the national rollout of the digital vaccine certificate.
The digital vaccine certificate will be issued to those who have completed the doses of coronavirus disease 2019 (Covid-19) vaccines.
Dr. Mary Jean Loreche, DOH-7 chief pathologist, said Cebu province, including the highly urbanized cities of Cebu, Mandaue and Lapu-Lapu, is included in the launching of the National Vaccine Certificate (VaxCertPH) on Sept. 20.
"Let us remember, our LGU partners and vaccination sites, it is important that our master-listing is timely and accurate. Do you know why? When we roll out our digital vaccine certificate, maybe later we won't be able to see the names of those we vaccinated, maybe we will be sad that their data are not found, incorrect or erroneous," she said.
Loreche said the launch of the certification system for Cebuanos who have been vaccinated against Covid-19 is very timely since some establishments in the province mull allowing only customers who are fully vaccinated.
There are also many establishments like gasoline stations, fast-food chains and grocery stores that offer discounts to individuals who can present a vaccination card.
Loreche said LGUs are instructed to fast-track downloading of the accurate and complete data of all the individuals who have received jabs.
Each certificate will have a Quick Response or QR code, she said.
Last week, the Department of the Interior and Local Government urged LGUs to fast-track the downloading of the data to the Vaccine Information Management System (VIMS) of the Department of Information and Communications Technology.
DILG Secretary Eduardo Año said LGUs should ensure that they input accurate data to the VIMS within 24 hours from vaccination.
Cebu province has recorded a total of 1,743,976 jabs administered as of Tuesday. Of this number, 1,020,541 are for the first dose and 723,435 for the second dose.
Cebu has been allocated so far with 2,172,362 Covid-19 vaccine doses from the national government to be administered in 158 vaccination sites. (PNA)