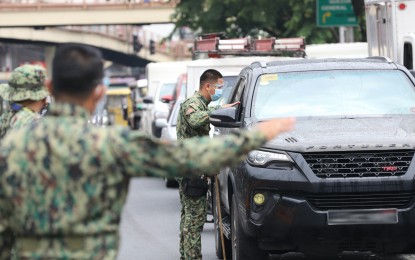 MANILA – As directed by the Inter-Agency Task Force for the Management of Emerging Infectious Diseases (IATF-EID), the Philippine National Police (PNP) is now ready to assist in the pilot implementation of granular lockdowns and quarantine alert level system in the National Capital Region (NCR) starting Thursday.
PNP chief, Gen. Guillermo Eleazar, said the NCR Police Office (NCRPO) personnel have already been instructed to familiarize the IATF-EID guidelines and continuously coordinate with the local government units of Metro Manila for the enforcement of the rules and even for necessary adjustments.
"Handa na ang inyong PNP sa pagpapatupad ng mga bagong patakaran alinsunod sa guidelines na inilabas para sa enforcement ng granular lockdown at quarantine alert level system sa Metro Manila (The PNP is ready to implement the new rules in accordance with the guidelines issued for the enforcement of the granular lockdown and quarantine alert level system in Metro Manila)," Eleazar said in a video message on Wednesday.
The pilot test guidelines released by the IATF-IED last Monday provide that the PNP "shall ensure peace and order at all times, and that the security protocols are maintained in lockdown areas".
"We are continuously coordinating with the LGUs in Metro Manila for proper enforcement of these rules—from the identification of areas that would be placed under lockdown up to the distribution of assistance to the affected residents," Eleazar said.
Part of the security adjustment, Eleazar said, is the shortened curfew hours that will be observed once the NCR shifts to Alert Level 4 with the implementation of granular lockdowns on September 16.
He said police personnel should work with barangay officials in implementing the curfew period.
Public cooperation
Eleazar also appealed to the public to cooperate and follow, not just the curfew hours, but all the rules and regulations that will be enforced under the alert level systems and the granular lockdown.
He also reminded police officers to observe maximum tolerance and impose what is only stated in the guidelines, noting that violators should never be punished.
Interior Secretary Eduardo Año earlier said areas under granular lockdown are required to be under the restrictions prepared for two weeks to prevent further transmission of Covid-19, particularly the Delta variant.
He said this will be done through aggressive testing, contract tracing and separating positive especially asymptomatic cases, identifying their close contacts, and placing them under quarantine for 14 days.
Only healthcare workers and returning and leaving overseas Filipino workers will be considered as Authorized Persons Outside Residence (APOR) in areas under granular lockdown.
Under Alert Level 4, the following protocols shall be observed:
*Persons below 18 years old and above 65 years old, those with immunodeficiencies, comorbidities, or other health risks, and pregnant women are not allowed to leave their homes except for obtaining essential goods and services and working in permitted industries and offices.
*Indoor visitor or tourist attractions, libraries, archives, museums, galleries, and cultural shows and exhibits; indoor venues for meetings, incentives, conferences, events (MICE); indoor entertainment venues such as cinemas, and venues with live performers such as karaoke bars, bars, clubs, concert halls, and theaters; indoor sports courts or venues, fitness studios, gyms, spas or other indoor leisure centers or facilities, and swimming pools; outdoor and indoor amusement parks or theme parks, funfairs/peryas, kid amusement industries such as playgrounds, playroom, and kiddie rides; indoor recreational venues such as internet cafes, billiard halls, amusement arcades, bowling alleys, and similar venues and staycations are also not allowed to operate under Alert Level 4.
*Outdoor or alfresco dine-in services in restaurants and eateries are allowed to operate at 30 percent capacity, regardless of customers' vaccination status while indoor dine-in services may be allowed at 10 percent capacity, only for fully vaccinated individuals.
*Personal care services limited to barbershops, hair spas, nail spas, and beauty salons are allowed to operate at 30 percent, if these services are conducted outdoors, regardless of customers' vaccination status while indoor services are at 10 percent capacity, only for fully vaccinated persons.
*Outdoor religious services are allowed at 30 percent capacity, regardless of vaccination status. Indoor religious gatherings, meanwhile, may be allowed at a limited 10 percent venue/seating capacity, only for fully vaccinated individuals.
*Gatherings for necrological services, wakes, inurnment, funerals for those who died of causes other than coronavirus disease 2019 (Covid-19) shall be limited to immediate family members.
*Government offices will remain fully operational with at least 20 percent on-site capacity with the implementation of work-from-home and other flexible work arrangement schemes.
Fully vaccinated
The Quezon City government will strictly impose an Alert Leve 4 protocol which provides that only fully vaccinated will be allowed to attend indoor religious services at 10 percent capacity.
According to the memorandum issued by Mayor Joy Belmonte on Tuesday, aside from the public, religious ministers and all other persons assisting religious services should be fully vaccinated as well.
"Indoor religious gatherings shall be allowed only for fully vaccinated persons, for up to 10 percent of indoor venue capacity, subject to physical distancing, use of face masks, and other minimum health protocols," the memorandum read.
It, however, said persons may attend outdoor religious services for up to 30 percent of the outdoor venue capacity of the church regardless of their vaccination status.
Each religious establishment is also required to assign a safety officer that will ensure that attendees present their vaccination cards before they are allowed entry inside the church.
The same rule will be applied in the city with regards to dine-in restaurants and other food establishments, and for personal care services that include barbershops, salons, and hair and nail care facilities.
In the case of the said business establishments, customers and clients may request to see the vaccination cards of the establishments' staff and employees.
The usual one-seat apart should also be implemented and when possible, indoor venues must use natural ventilation, as well as the use of both face masks and face shields, should still be required.
Gov't to help affected workers
Labor Secretary Silvestre Bello III said the Department of Labor and Employment (DOLE) is ready to assist workers in Metro Manila if they will be affected by granular lockdowns.
Bello said the quarantine Alert Level 4 and granular lockdowns in Metro Manila from Sept. 16 to 30 will not have a big impact on employees.
"Actually, the impact on the employment situation of our workers is not that big because it was only level 4 and involves only isolation location for example only one house is locked down or only one building is locked down or only one site is locked down or just a barangay," he said in a virtual forum on Wednesday.
"But if ever there will be some workers who will be affected, we are still prepared to provide them the assistance that they should be entitled to," he added.
Discretion to reopen churches
Bishop Honeste Ongtico said Catholic priests under the Diocese of Cubao have been given the discretion to reopen their churches under the Alert Level 4 protocols.
"With the recently issued Alert Level 4 status of Quezon City, effective September 16, 2021, allowing religious gatherings with the following conditions: Outdoor gatherings are 30 percent venue capacity, Indoor gatherings at 10 percent and only for the vaccinated individuals, only 18-65 years old allowed," he said.
"I now give the permission to all parish priests, at their discretion, to reopen their churches for public worship," he added.
Ontioco reminded the priests to strictly follow the health protocols by the government.
"Please always keep in mind the safety of our people by following necessary health protocols," he said. "I continue to pray for your protection and healing." (PNA)