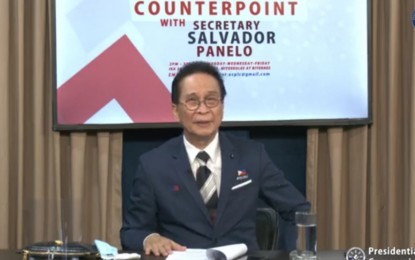 MANILA – Chief Presidential Legal Counsel Salvador Panelo on Tuesday said it is the Senate Blue Ribbon Committee under Senator Richard Gordon that is guilty of inciting to sedition, not President Rodrigo R. Duterte.
Panelo made this remark after Gordon said Duterte's order requiring Cabinet officials to seek his clearance before they can attend Senate hearings would be "skirting" incitement to sedition.
"While we agree that the Senate has the authority to conduct hearings, the mutual respect demanded from co-equal branches of government dictates that these must be done in such a way that it is free from bias and prejudice," he said in a press statement.
He said Senate inquiries must be conducted in an "efficient manner" as not to prevent government officials summoned from performing their duties.
"Rambling inquiries that partake of the nature of witch hunts or fishing expeditions should be refrained from, particularly those that practically prevent a body or agency of government from performing its functions," he added.
Panelo said Gordon's panel is guilty of inciting to sedition because it hampered government operations.
"The remarks of Senator Gordon against the President on inciting to sedition may thus actually refer to his committee. It is them who have been restraining the Executive Branch to do its work, including addressing the present pandemic, by compelling key officials to a hearing which has been described by many as an investigation in aid of election," he said.
He urged Congress to "keep itself in check" in its conduct of official business.
Panelo recognized that the congressional power of inquiry is expressly recognized and granted in the Constitution.
He, however, said the Supreme Court also takes judicial cognizance of the fact that the right of Congress to conduct inquiries in aid of legislation is "susceptible to abuse."
"For one, the inquiry itself might not properly be in aid of legislation and just be a veiled usurpation of judicial functions — similar to what is happening now," he said.
Since no new legislation is being contemplated by its members, he said the panel "may not compel department heads to attend its hearings nor cite them in contempt if they refuse to participate."
Earlier, Gordon said Duterte's gag order "restrained" the Legislative Branch from performing its work by asking Cabinet officials not to show up.
''Kasi (because) you are restraining legislative, co-equal branch of government from performing its work and telling them don't attend, that's sedition, I mean, (that's) incitement to sedition 'yan,'' Gordon said. (PNA)