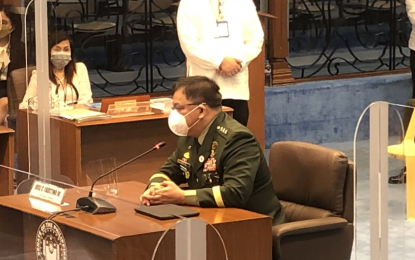 MANILA – The Commission on Appointments (CA) on Wednesday confirmed the promotion of Armed Forces of the Philippines (AFP) chief-of-staff, Lt. Gen. Jose Faustino, to four-star general.
"The AFP leadership is grateful for the Commission on Appointments' continuous trust and support as we rise through the military ranks taking on higher responsibilities to serve our country," he said in a statement.
Faustino, a member of the Philippine Military Academy (PMA) Class of 1988, replaced Gen. Cirilito Sobejana, a member of PMA Class of 1987, following his mandatory retirement last July 31.
Faustino earlier served as acting commanding general of the Philippine Army and head of the Eastern Mindanao Command.
The CA also approved the nominations of the head of Southern Luzon Command, Maj. Gen. Bartolome Bacarro to Lieutenant General; and Philippine Army (PA) chief-of-staff, Brig. Gen. Roberto Capulong, to Major General.
The commission also gave its consent to the nomination of Col. George Joel Lalaquil to Brigadier General, Brig. Gen. Peter Angelo Ramos to Major General, and Navy Captain Juan Ilagan to Commodore.
It likewise confirmed the promotion of Philippine Navy flag-officer-in-command, Vice Admiral Adeluis Bordado, and also of Brig. Gen. Robert Velasco, Brig. Gen. Inocencio Pasaporte and Brig. Gen. Augusto Gaite.
"We shall prove to the Filipino people that we are worthy of living up to the ranks bestowed upon us by the national government," Faustino said.
Twenty-four PA Colonels were also confirmed by the CA and these are:
* Col. Franklin Fabic
* Col. Alfonso Matias Jr.
* Col. Ronald Illana
* Col. Angelo Lutera
* Col. Ferdinand Rondina
* Col. Jose Ramer Megio Sr.
* Col. Rex Banjo Bumanglag
* Col. Glenn Loreto Caballero
* Col. Roberto Breboneria
* Col. Ramir Redosendo
* Col. Elmer Jay Anibigno II
* Col. Julius Pamittan
* Col. Sisenando Magbalot
* Col. Leo Bongosia
* Col. Ricnon Carolasan
* Col. Wilfredo Amoma
* Col. Edmond Abella
* Col. Manuel Leo Gador
* Col. Freddie Europa
* Col. Benjamin Dao-On
* Col Francisco Molina Jr.
* Col. Edgar Allan Villanueva
* Col. Omar Orozco
* Col. Alaric Avelino Delos Santos.
Three Philippine Navy Captains and a Marine Colonel also got confirmation of their promotions: Capt. Tirso Chavez, Capt. Jude Joseph Sumpay, Capt. Marlon Roy Roa, and Col. Ronald Virtudazo.
Also confirmed were the promotions of Col. Perpetuo Tan Jr. from the Veterinary Corps, Col. Jesus Francisco Torbela from the Corps of Professors, and Col. Rene Tambago from the Chaplain Service. (PNA)