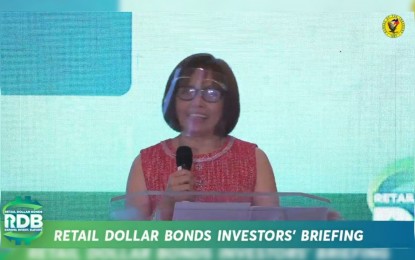 MANILA – The government raised a total of USD866.2 million (around PHP43.3 billion) worth of five- and 10-year retail dollar bonds (RDB) during its initial auction on Wednesday, higher than the total USD4-million offer.
Of the total, USD551.8 billion was raised from the five-year tenor paper while USD314.4 million was awarded for the 10-year securities.
The offer volume for both tenors was set at USD2 million each.
The shorter-tenor debt paper fetched a coupon rate of 1.375 percent, while the coupon rate of the longer tenor paper was at 2.250 percent.
National Treasurer Rosalia de Leon said she is "happy" with the results of the maiden offering for RDBs.
"Rates reflect various considerations for pricing, including performance of ROPs (dollar-denominated Republic of the Philippines bonds), liquidity, and worries on US rates liftoff," she told journalists in a Viber message.
The BTr will offer the debt paper to retail investors through its mobile application, the state-owned Land Bank of the Philippines (Landbank), and the Development Bank of the Philippines (DBP), as well as several other private banks tapped for this purpose.
De Leon is hopeful that the strong demand during the auction will also transpire during the offer period for the debt paper in the next two weeks.
"(We) need two weeks since (we) need to throw the net far and wide to catch more," she said, projecting that there will be more onshore investors who will tap the debt paper than offshore investors.
She added there is a premium in investing in RDBs over ROPs as investors will not have foreign exchange risks and the securities will not be taxed.
The RDB is an additional option for the government to raise funds for its programs and projects. Its yields will be given to investors every quarter.
De Leon, in her speech during the virtual RDB investors briefing streamed through BTr's Facebook page, expects healthy demand for the debt paper given its affordability.
She said the minimum placement is USD300, way cheaper than the traditional ROP which has a minimum investment of USD200,000.
"RDBs is a response to the call for diversification of investments of our retail sector and contribute more to the government's development efforts," she added.
The RTBs will be offered until Oct. 1 while the targeted issue date is on Oct. 8.
Issue managers for the debt papers include BDO Capital, BPI Capital, First Metro Investment Corporation (FMIC), SB Capital, SBC Capital, Standard Chartered, and Union Bank of the Philippines. (PNA)