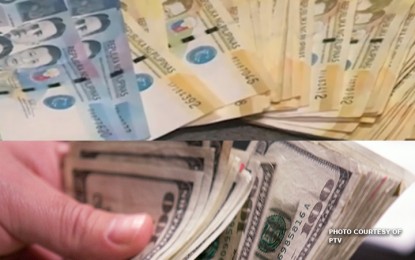 MANILA – Gains in the vaccination program of countries where overseas Filipino workers (OFWs) are, along with economic recovery around the world, are expected to further boost remittance growth in the Philippines.
The Bangko Sentral ng Pilipinas (BSP) on Wednesday reported a 2.6-percent year-on-year growth of remittances last July to USD3.167 billion, while year-to-date expansion stood at 6 percent to USD19.783 billion.
In a report, ING Bank Manila senior economist Nicholas Mapa said last July's remittances growth is surprising and "impressive given that this was the highest non-December level recorded with the funds sent home in July matching that which is usually sent home during the Christmas season."
"Secondly, the higher dollar amount also surprised us as OFs (overseas Filipinos) had in the past opted to send home less remittances whenever the peso tends to weaken as exchange rate dynamics help beneficiaries cover peso needs with less dollars sent home," he said.
The local currency closed at the 49-level on Wednesday, but it has weakened to the 50-level these past days on growth concerns due to the pandemic, among others.
"In the coming months, we can expect remittance flows to sustain their upward trajectory with OFs still finding a way to help support domestic consumption," Mapa said.
He said with job losses remaining up and the economy still weak, OF remittances is expected to accelerate to pick up the slack and boost local spending.
"Sustained OF remittance flows coupled with the recovery in BPO (business process outsourcing) receipts will help offset the widening trade deficit and limit the impact on the country's current account," he added.
Rizal Commercial Banking Corporation (RCBC) chief economist Michael Ricafort believes that with some OFW-host countries reaching or at near community-level protection against the coronavirus disease 2019 (Covid-19), demand for OFWs and remittances growth will increase further.
Ricafort said remittances being sent to the Philippines have been "somewhat defying the pandemic" as a lot of OFWs are economic and medical front-liners, which he described "a sign of resilience/bright spot/greenshoots."
He said continued reopening of more economies, especially the hard-hit sectors like leisure, travel, and tourism, would require more workers, thus a plus for OFWs.
"Continued growth in OFW remittances would support recovery in consumer spending, which accounts for nearly 70 percent of the economy, as well as supporting recovery of the country's GDP (gross domestic product), as consistently seen in 2Q (second quarter) 2021," he said.
The country's balance of payment (BOP) position and gross international reserves (GIR) are also expected to benefit from the sustained resiliency of OFW remittances.
However, Ricafort said risks remain on account of more contagious Delta and Lambda Covid-19 variants, among others. (PNA)