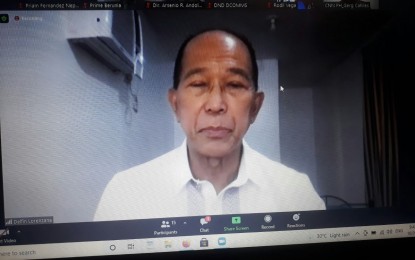 MANILA – Defense Secretary Delfin Lorenzana on Thursday said the Philippines is unlikely to acquire Lockheed Martin F-16 jet fighters for its multi-role fighter (MFR) program for now due to budgetary constraints.
"Sa ngayon, malabo pa dahil yun pera natin, yun perang nakalaan ay kung bibili tayo ng F-16 jets, ay dalawa lang ang mabibili natin. Samantala kung bibilhin tayo ng Gripen, yung Swedish-made fighter aircraft, ay anim (For now, it is very unlikely that we will be able to acquire F-16s as our budget for (the MRF project) will only allow us to get two (if we will proceed). And if we will decide to acquire the Gripen, the Swedish-made fighter aircraft, (Saab JAS-39), we can get six)," Lorenzana said in an online press briefing.
Fighter aircraft manufacturers do not normally advertise the prices of their jet fighters but it is known that F-16Vs, the specific jet fighter version the Philippines is looking to acquire, costs between USD12 million (around PHP598 million) to USD35 million (around PHP1.7 billion) each and depending on its configuration.
Lorenzana made this comment when asked whether the F-16 fighter aircraft is the top pick for the country's MRF program after pictures of him trying its simulator during his visit to the United States last week appeared on social media.
"Alam ng mga Amerikano na iyong ang atin dahilan kung bakit tayo tumitingin sa iba (The Americans know of our reason and why we are still looking at other (aircraft manufacturers)," Lorenzana said.
He, however, admitted that the F-16 is a very good aircraft as even new or rookie pilots can operate and land it safely after some instructions as proven by his experience in the aircraft's simulator.
He said the only way the Philippines can acquire F-16 jet fighters is through a favorable "financing scheme" by the US.
If this will not happen, he said the Philippines has no choice but to look into the Gripen fighter aircraft.
The Swedish-made 'Gripen' is a light single-engine MRF capable of speeds up to Mach 2.0. It is armed with a 20mm automatic cannon and is capable of carrying a variety of rockets, bombs, missiles, and surveillance equipment.
Meanwhile, the American F-16V has a top speed of Mach 2.0, can also carry an assortment of bombs and missiles and sensors, and is armed with a 20mm cannon.
The MRF is part of Horizon Two of the Armed Forces of the Philippines Modernization Program slated for 2018 to 2022, which aims to acquire more equipment for external defense.
Any aircraft that will be selected must be able to integrate with existing radar systems that have a range of around 250 nautical miles.
Once these MRFs are acquired, the Philippine Air Force (PAF), with the help of these radar systems, can be deployed to determine whether the aircraft flying in Philippine airspace is friendly or hostile.
These proposed MRFs are expected to augment the existing fleet of 12 South Korean-made Mach 1.5 capable FA-50PH jet aircraft acquired from 2015 to 2017 by the PAF as its first supersonic aircraft after the decommissioning its Northrop F-5 "Tiger" jet fighters in 2005. (PNA)