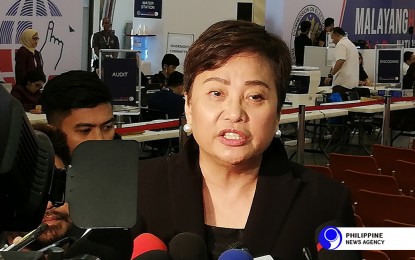 MANILA – The Commission on Elections (Comelec) on Thursday appealed to deactivated voters to renew their registration, exactly two weeks before the Sept. 30 registration deadline.
Comelec Commissioner Rowena Guanzon made the call to some 6 million voters who were deactivated due to failure to vote in two consecutive polls.
"To reactivate, there is no need to personally appear at the Comelec office. You can do it through sending an email to your respective Election Officers," she said in a Laging Handa briefing.
Guanzon said the email addresses of all Offices of the Election Officer can be found on the poll body's website.
In July, the poll body reported that some 600,000 deactivated voters have registered again to be able to participate in next year's elections.
Meanwhile, she said they are coming up with health and safety measures for next year's polls.
"Before you will be allowed to vote, the voter has to fill-up the form. It would be better if you have symptoms, you declare it to your barangay official that you have Covid-19 (coronavirus disease 2019) symptoms for you to get swabbed before you decide to go to the precinct and vote," she said.
At the same time, Guanzon added that they will be providing isolation polling places (IPP) in voting centers for those who have Covid-19 symptoms.
On Wednesday, the poll body said it would use a bigger venue for the filing of certificate of candidacy (COC) for national positions next month, to ensure safe physical distancing amid the pandemic.
The COC filing will be held at the Sofitel grounds in Pasay City from Oct. 1 to 8, only for candidates for president, vice president, senator, and party-list representative. (PNA)