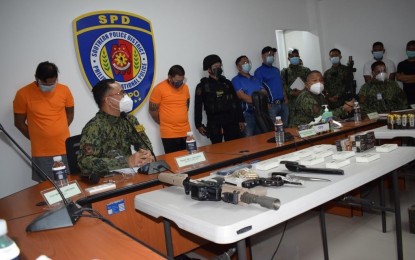 MANILA – Police arrested two suspected gunrunners in the cities of Taguig and Mandaluyong last week and seized from them several high-powered firearms.
Southern Police District (SPD) director Brig. Gen. Jimili Macaraeg identified the suspects as Nichol John Jerusalem, 30 and Bruce de Leon, 32 who were respectively arrested on Sept. 16 and 17.
Jerusalem was arrested at Barangay Katuparan, Taguig City at around 8:20 p.m. after a poseur-buyer purchased an assault rifle and grenade launcher worth PHP180,000.
Seized from him were several assault rifles, a shotgun, a grenade launcher, ammunition and grenades.
De Leon, Jerusalem's cohort evaded arrest but was eventually caught in a follow-up operation the next day in Mandaluyong City.
Apart from the high-powered firearms, police also confiscated from Jerusalem a hunting knife, two mobile phones and a motorcycle.
The suspects are facing charges for violation of Republic Act 10591 (Comprehensive Firearms and Ammunition Regulation Act of 2012), Republic Act 9516 (Unlawful Possession of Firearms, Ammunition and Explosive) and Batas Pambansa 6 (Concealing Bladed Weapon). (PNA)