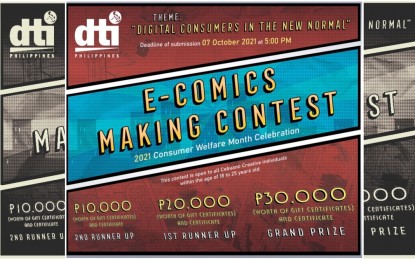 CEBU CITY – Recognizing the role of the youth in digital consumerism under the new normal, the Department of Trade and Industry (DTI)-Cebu office on Monday launched an electronic comics contest for the young artists in the province.
"Calling the attention of all aspiring youth comic artists in Cebu! Join the DTI-Cebu's e-comics contest and get a chance to win PHP60,000 worth of gift certificates," a statement posted on DTI-Cebu social media page said.
DTI-Cebu director Rose Mae Quiñanola said the contest is in line with the 2021 Consumer Welfare Month celebration in October that carries the theme "Digital Consumers in the New Normal".
The competition mechanics released by the DTI-Cebu said the contest is open to all Cebu creative individuals like illustrators, graphic artists, and makers of comic strips who are 18 to 25 years of age.
The e-comics entry must be illustrated and drawn by hand, the graphics to be used must be original, and those under licenses or in the public domain must obtain permission from the original creator.
It must be submitted in TIFF, JPEG, RGB, vertical A4 and 300-dpi format; with a minimum of five pages, including the front page; with a minimum of four frames per page except the title page; and should have a maximum of three members per comic book entry.
The entries will only be accepted if they are not exhibited as part of any comics competition.
An entry may be submitted either by an individual competitor or by a group composed of at most three members.
Each individual or group is only allowed to submit one entry on or before the deadline of submission on Oct. 7 at 5 p.m.
The competition mechanics do not allow individuals to have multiple teams and each participant can choose topics or combinations of storylines for their entries, tackling consumer rights and responsibilities, sustainable consumption, e-commerce, consumer in the new normal, and deceptive sales act or practices.
The entries should be submitted using Cebuano or Visayan as the language but must have English subtitles.
The DTI-Cebu will disqualify entries that will carry offensive acts or language.
Each entry will be judged based on the story and messages (25 percent), relevance to the theme (25 percent), originality (25 percent), and creativity and artistic skill (25 percent).
Those who will get the grand prize will receive PHP30,000 worth of gift certificates and a certificate; 1st runner up will get PHP20,000 worth of gift certificates and a certificate; and 2nd runner up will be given PHP10,000 worth of gift certificates and a certificate.
The agency said 17 other qualified entries will receive PHP1,500 worth of gift certificates and a certification. (PNA)