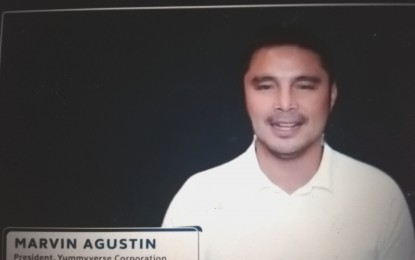 MANILA – Many businesses, big or small, have been striving to get through as the world deals with the pandemic. When the going gets tough, how can they keep going?
Actor turned entrepreneur Marvin Agustin shared how he found opportunities amid the struggles.
"Nothing is too small to start," he said in a virtual summit hosted by Globe Business over the weekend. He emphasized how his humble beginnings taught him to muster up courage.
Speaking virtually in front of about 800 micro, small and medium enterprises (MSMEs) and aspiring entrepreneurs, Agustin noted that he did not inherit his businesses. As a child, he was picking up bottles to sell, sell meat in their community, among others.
When he doesn't find bottles, he had to choose between taking the bus or starving. The young Agustin (Marvin Jay Marquez Cuyugan in real life) learned to take the long walk. Fast forward, he became a mascot in a restaurant, and a waiter.
Through selling meat, he learned how customers value every peso they spend. These jobs had enriched him as a person.
"Until I became a boss," he shared, adding that a leap of faith is necessary for one to succeed.
During his first days in show business, he was only using two shirts and one pair of pants. "But I was able to save and invest," he recalled.
Agustin said he knew all along that showbiz has a timeline, that love teams cannot last forever. Thus, when asked for an endorsement, he did not ask for money but for a franchise. He enrolled in a culinary school, and had over 10 branches of a Japanese restaurant.
The former actor was in a board meeting when the lockdown was announced last year. He got worried about the safety of the employees and customers. "Food sector was among the hardest hit by the pandemic," he said, and added that opening restaurant branches became difficult as lockdown classification changes every two weeks.
"I taught (them) about sustaining the business while retaining people," Agustin said. He encouraged the attendees to be more aggressive in planning, problem-solving. "Maybe (the businesses) were paralyzed, but the world won't stop revolving," he emphasized.
Looking for inspiration, he started learning baking through YouTube. His creations were posted on his social media accounts, and people started ordering.
"Before long, I needed a legitimate commissary, bigger oven, and a legitimate online platform to take the customers' orders," he narrated.
Aside from pastries, cochinillo has been among the products that Agustin offers. Cochinillo is a piglet roasted after feeding on sow's milk for roughly two to six weeks.
While shooting for a video that he would post on social media, the oven's brand was seen. Many have inquired about the oven, and so the manufacturer sent him another oven, he jested.
This, he said, is an opportunity amid the crisis.
"Innovation, perseverance, adaptability -- these are still the (keys) that I will be using in the business," Agustin said. He reiterated that in order for an entrepreneur to strive, he/she must always remember hard work and perseverance.
Meanwhile, the summit also featured learning sessions on new market trends, best practices in working remotely, and digital solutions that mobilized different business operations.
Ayala Corporation chief executive officer Fernando Zobel de Ayala said MSMEs have always been key partners of the Group. An estimated 250,000 small and medium enterprises (SMEs) are part of the Ayala ecosystem, he said. (PNA)