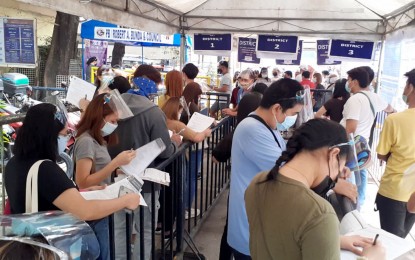 MANILA – The House of Representatives has adopted a resolution urging the Commission on Elections (Comelec) to extend the deadline for voter registration in the country and abroad to prevent voter disenfranchisement amid the coronavirus pandemic.
During Monday's plenary session, the chamber adopted House Resolution 2231, which calls for the extension of the September 30 deadline in view of the health and safety measures and travel restrictions adopted to prevent the spread of Covid-19.
"Comelec could not have anticipated the adverse impact of the pandemic on voter registration and must make the necessary adjustments to allow more unregistered potential voters to register," the resolution read.
The resolution noted that the five-and-a-half-month suspension of voter registration across the country, as well as the weeks-long suspensions in areas under the enhanced community quarantine (ECQ) and modified ECQ (MECQ).
It said that the Supreme Court recognizes Comelec's power to set the deadline of voter's registration provided that no registration may be done during the period starting 120 days before a regular election.
"While the Comelec needs ample time to prepare the final list of voters, which is a prerequisite for the preparation of the Project of Precincts (POP), extending the deadline for voters registration will neither unduly hamper nor delay the Comelec's preparation of the POP," it said.
It also cited instances wherein Comelec set deadlines that are on or beyond October 31 of the year before the elections. (PNA)