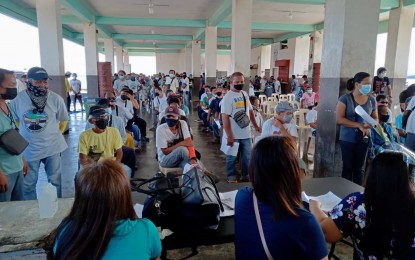 LEGAZPI CITY – Some 1,393 or 55.52 percent of the total 2,500 tricycle drivers in this city have received PHP1,500 each from the city government as part of the support to this vulnerable sector directly affected by the prevailing coronavirus disease (Covid-19) pandemic.

Councilor Al Barizo, chairman of the Committee on Transportation and Public Utility in the city council, said 760 recipients came from the Parada 4, 5, 6 and 7 groups while 633 who received assistance during the first batch of the distribution last Friday were plying the route for Parada 1, 2 and 3.
He bared this in an interview during the second batch of payout at the fish port in Barangay Dap-dap here on Tuesday,
"The remaining 1,107 drivers will be receiving their financial assistance on the last batch of distribution to be held on Friday," Barizo said.
The payout materialized after the city council adopted a resolution allocating PHP2.5-million cash assistance to tricycle drivers in order to lessen the burden caused by the pandemic on their livelihood.
Barizo said the financial assistance is part of the support to members of the public transportation sector who are encountering financial difficulties due to the limited number of passengers per trip mandated in health protocols to control the spread of the virus.
He said he also passed a resolution that grants amnesty to tricycle drivers and operators with expired franchises from one to three years.
"Under the resolution, the owners of the expired tricycle franchise will be exempted from any penalties when they renew their units," the city official said. (PNA)