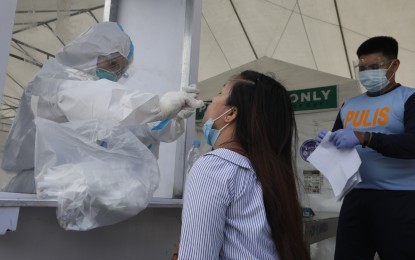 MANILA – The Department of Health (DOH) on Tuesday reiterated its stand against the use of rapid antigen tests as confirmatory tests for Covid-19, saying this should not be used in settings with low prevalence of the disease or population with no known exposure.
In a text message to reporters, Health Undersecretary Maria Rosario Vergeire said antigen tests must not be done on asymptomatic, unexposed individuals, travelers, or for the purpose of border control.
"Rapid antigen tests are most useful during the acute phase of the disease when the viral load is high, which is within five days after the onset of symptoms," she said.
Vergeire earlier said she discourages the use of antigen tests for screening persons joining the filing of certificates of candidacy (COC) next month.
In response to Vergeire, Comelec spokesperson James Jimenez said antigen tests are accepted by the House of Representatives as a requirement for entry into their premises.
"The DOH emphasizes that RT-PCR testing remains to be the gold standard for confirming the presence of SARS-CoV-2. Moreover, the test kits being used in the country have been evaluated by the Research Institute for Tropical Medicine," Vergeire said.
The outcome of a laboratory test result is influenced by multiple factors, affecting all the phases of testing from pre-analytic and analytic to post-analytic, she added.
From Oct. 1 to 8, aspirants for national positions can file their COCs at the Sofitel in Pasay City.
Pre-pandemic, the filing of COCs is usually a spectacle, with huge crowds and supporters of politicians trooping to the main Comelec office in Intramuros.
This year, however, the Comelec has issued guidelines for the filing, including a cap on the number of supporters allowed to join the aspirant and the strict observance of health protocols. (PNA)