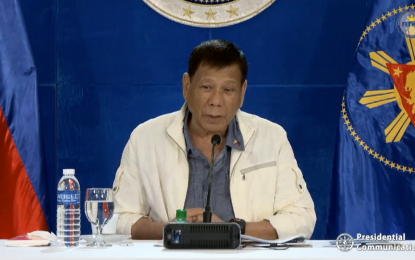 MANILA – The Duterte administration complied with Republic Act 11469 or the Bayanihan to Heal as One Act (Bayanihan 1) when it procured emergency supplies at the start of the coronavirus disease 2019 (Covid-19) pandemic in 2020, President Rodrigo Duterte said on Wednesday night.
Duterte made the statement in his taped Talk to the People, as he defended anew the government's purchase of Covid-19 medical supplies.
"Para sa amin dito sa gobyerno, tapos na. Nag-order, na-deliver according to specifications, and then nagbayad tayo (For this government, we have already done our part. We ordered [the Covid-19 supplies, they were delivered, and then we paid). All [were done] in accordance with the guideline of the Bayanihan 1," he said.
Duterte lamented that the Senate Blue Ribbon Committee, chaired by Senator Richard Gordon, is persistent in grilling the government over its decision to award Pharmally Pharmaceutical Corp. the PHP8.68 billion worth of contracts for the procurement of personal protective equipment (PPE) and testing kits.
Citing RA 11469, Duterte said the government is allowed to procure medical supplies "in most expeditious manner" when Covid-19 hit the country last year.
"What we followed was the emergency form of procurements stipulated under the Bayanihan 1, passed by no less than some of the people questioning it today, which exempted us from these procedures so that we can buy the supplies," Duterte said.
Duterte added that Congress was aware of the provision in Bayanihan 1 which authorizes the government to buy emergency supplies without the need to comply with procurement laws.
"Congress knew of its urgency. Alam nila kailangan na kailangan ang mga supplies, mga medical PPEs and everything to protect the front-liners, mga doctor, mga nurses. Alam nila na gaano kailangan na pabilisan (They knew that we really need the supplies, the medical PPE gears, and everything to protect the front-liners, doctors, and nurses. They know that we needed to act fast)," he said.
RA 11469 exempts the government from complying with RA 9184 or the Government Procurement Reform Act and other procurement laws to give way for the immediate purchase of medical supplies such as PPE sets, face masks, and face shields, that will be given to public and private health facilities attending to the needs of Covid-19 patients.
Failure to prove irregularities
Despite the Senate Blue Ribbon Committee's efforts to malign the government amid its lengthy hearings, it failed to prove that there were irregularities in the procurement of Covid-19 medical supplies, Duterte said.
"After seven hearings of proving nothing -- no ghost deliveries, no illegal procedures -- the Senate blue Ribbon Committee continues to conduct their witch hunt," he said.
Duterte said it no longer came as a surprise that some senators were already tired of the "political circus" by members of the Senate Blue Ribbon Committee who are trying hard to find fault with the government.
"Now, only a few senators attended and even fewer were participating in the proceedings," he said. "Clearly, even other committee members and other senators do not mention it in public, [but they] are starting to lose interest in its useless political circus. Some of the committee members are trying hard, but again, in vain to find fault [with] the procurement process."
Members of the Senate Blue Ribbon Committee, including Gordon, have questioned the government's acquisition of PPE gears and other medical equipment at the height of the Covid-19 pandemic last year.
Since the Senate Blue Ribbon Committee conducted a series of hearings, Duterte has engaged in a word war with Gordon.
Duterte has also turned the tables on Gordon, who he said has committed irregularities as chairperson of the Philippine Red Cross (PRC).
'Dual personality'
In his latest verbal tirades against Gordon, Duterte said the senator has a "dual personality" is "banned or prohibited by law."
Hence, Gordon needs to choose between being a senator or a PRC chair, Duterte said.
"Under the law, you must give [up being] Red Cross [chairperson], kung gusto mong maging senador pa, o senador ka, hindi ka Red Cross (if you want to stay as a senator or you are a senator, but you are not a Red Cross chair). Pero para sa akin (But for me), you find two positions very lucrative," he said. "I will insist that you give up one because you cannot be both."
Duterte said he would also make sure that Gordon will face a case before the Office of the Ombudsman because of the PRC chair's supposed failure to use the humanitarian organization's money "in the right way."
"Dapat noon pa, dinemanda ka na (A case should have been filed against you a long time ago)," he said. "So, I would like to inquire from the Ombudsman if there is a case filed against you." (PNA)