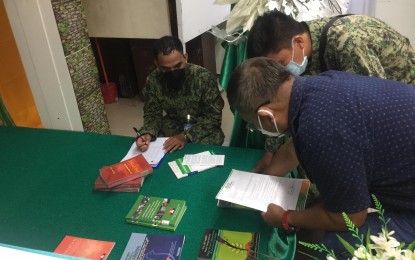 ILOILO CITY – The Aklan State University (ASU) in the municipality of Banga made history as the first higher education institution in the Visayas to turn over subversive documents and textbooks to the government.
The reading materials were mostly donated to the ASU and have been in its library since 2012, before the term of current president, Dr. Emily Arangote, who was appointed last year.
"The APPO (Aklan Police Provincial Office), with the full support of RTF-ELCAC 6 (Regional Task Force to End Local Communist Armed Conflict 6 [Western Visayas]) reached out to ASU for them to turn over also books that are not mentally healthy for students," task force spokesperson, Prosecutor Flosemer Chris Gonzales, said during the dialogue and turnover ceremony held at the university cafeteria on Friday.
The books and documents, which are now under the custody of the APPO - Provincial Investigation and Detection Management Unit, include one authored by Communist Party of the Philippines (CPP) founder Jose Ma. Sison titled Foundation for Resuming the Philippine Revolution.
In exchange, Gonzales donated a book from the RTF-ELCAC-6, The War Within.
He noted that turning over the books to the government is not a restriction of academic freedom.
"Academic freedom is always subject to control and supervision by the state when the welfare of the people or overriding public welfare calls for it. We are at war with terrorism and of course, our university officials exercising sound discretion and good judgment can always decide for the welfare of their students," Gonzales said in his message.
In an interview on Saturday, APPO spokesperson, Staff Sgt. Ma. Jane Vega, said even if Aklan has been declared insurgency-free in December 2011, there are still sightings of insurgents as neighboring Antique and Capiz provinces are still infiltrated.
Vega said APPO Director, Col. Ramir Perlito Perlas, pursued the turnover so students would not be influenced by the communist ideologies.
"We are very active in our campaign. Col. Perlas pursued this initiative because he does not want to see atrocities that are happening in other provinces to happen here," she said.
Vega also encouraged other schools in the province to "not hesitate to surrender" similar materials to the police.
The Philippines' Anti-Terrorism Council has designated the CPP, New People's Army, and National Democratic Front as terrorist groups.
The United States, the European Union, the United Kingdom, Australia, Canada, and New Zealand have also listed the CPP-NPA as a terrorist organization. (PNA)