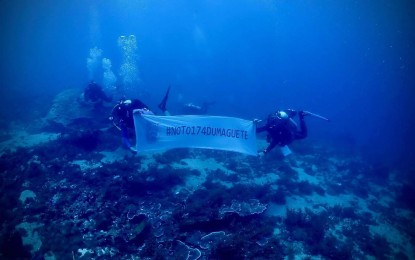 DUMAGUETE CITY – The Sangguniang Panlalawigan (SP) of Negros Oriental on Monday voted to override Governor Roel Degamo's veto on the proposed ordinance prohibiting reclamation projects in marine protected areas in the province.
Vice Governor Dr. Edward Mark Macias, in an interview with the Philippine News Agency during a recess in their afternoon session, said to override the veto of the governor, the SP would require a two-thirds vote from members of the provincial board.
Including the vice governor, there are 14 SP members, and a vote of 10 is enough to override the veto, even though Macias could not vote unless there is a need to break the tie, he said.
The voting saw 12 for the override, zero for the non-override, and zero for abstained, Macias said.
Board Member Jake Reyes was absent in the session, he said.
The voting came after Degamo last week vetoed Ordinance No. 29, "establishing marine protected areas network in the province of Negros Oriental and declaring the marine protected areas that form the network as reclamation-free zones", Macias said.
Degamo, in a videotaped statement over the weekend, explained the legal reason behind his veto of the proposed ordinance, through Provincial Legal Officer Rogelio Enojo.
Enojo said after careful study, they found Executive Order No. 74, which says that the "approval and disapproval of all reclamation projects undertaken by local government units and private entities is (a function of) the Office of the President".
The lawyer cited "ultra vires" where the local government, through an ordinance, cannot supersede the powers of the national government.
The vice governor, however, said that if the governor has questions regarding the proposed ordinance, he can always go to court.
Degamo, meanwhile, reiterated that the veto does not in any way affect his previous stand of opposing the proposed 174-hectare offshore reclamation project here in the absence of clear explanations about how this can benefit the people and bring progress and development to the capital city. (PNA)