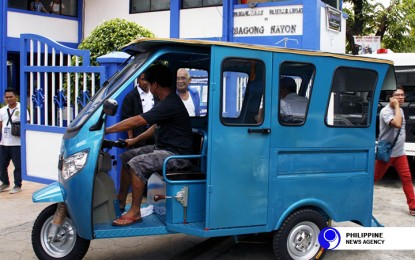 MANILA – The House of Representatives on Monday overwhelmingly approved on final reading a measure providing a national energy policy and regulatory framework for the use and development of electric vehicles and their development as an industry.
With 195 affirmative votes, the chamber passed on third reading House Bill 10213, or the proposed "Electric Vehicle Industry Development Act", which aims to encourage the growth of the electric vehicle industry, which could lead to more job opportunities for local skilled workers and reduce the country's reliance on imported fuel.
It proposes to create a national policy and framework to encourage the uptake of electric vehicles in the public and private sectors with the creation of the Electric Vehicles Advisory Board, as well as the Comprehensive Roadmap for the Electric Vehicle Industry (CREVI).
Deputy Speaker Wes Gatchalian, the principal author of the bill, said gradually shifting to renewable sources of energy to diversify the power mix can address the Philippines' problem of energy supply.
Gatchalian said renewables can enhance energy reliability and reduce emissions while supporting the target of the administration to reach 100 percent electrification by 2022.
He said one of the current trends that promote renewable energy is electric vehicles.
"This proposed measure, to begin with, stands on a constitutional provision that mandates the state to 'protect and advance the right of the people to a balanced and healthful ecology in accord with the rhythm and harmony of nature'," he said.
The bill mandates that private and public buildings and establishments, designed with twenty or more common parking slots, designate dedicated parking slots for the exclusive use of electric vehicles.
It shall require designated electric vehicle parking areas and gasoline stations to install charging stations.
It mandates that certain entities in the private and government sectors which maintain and operate 20 or more motor vehicles in their office fleets shall ensure at least 10 percent of their fleet would be electric vehicles within the timeframe indicated in the CREVI.
The CREVI would also provide a timeline for the gradual increase of such percentage until the entire fleet of the covered entities shall all be electric vehicles. (PNA)