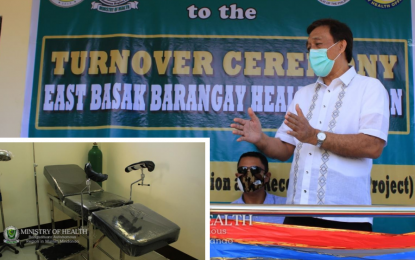 COTABATO CITY – Health authorities in the Bangsamoro Autonomous Region in Muslim Mindanao (BARMM) turned over Tuesday three barangay health stations (BHS) amounting to PHP9.9 million in Marawi City to better respond to the people's health needs.
Dr. Bashary Latiph, BARMM health minister, said the putting up of health facilities in as many areas as it can across the region is among the priorities of his office.
"We are doing our best to address the medical needs of our Bangsamoro constituents in Marawi City," he said in a statement.
Latiph led the turnover ceremonies for three BHS with medical equipment in Barangay East Basak, Barangay Bacolod Chico and Barangay Amito Marantao.
He said each newly-opened BHS is worth PHP3.3 and funded under the government's Marawi Recovery Rehabilitation and Reconstruction Project.
During the program, Latiph urged the people of Marawi and Lanao del Sur to submit themselves for inoculation against coronavirus disease (Covid-19) and not entertain misinformation about the vaccination program.
"Public health is all about precaution. I invite all the people of Lanao del Sur to get vaccinated as soon as possible," he said.
Latiph said some residents told him that they have had no BHS since Bacolod Chico village was created 26 years ago.
"So this is like a dream came true for all of us," Latiph said, quoting a 60-year-old resident who was teary-eyed seeing her village now has a health facility.
Saida Ali, MOH-BARMM information chief, also handed over 400 "Usapang Bakuna" booklets to the barangay health station workers and the Integrated Provincial Health Office (IPHO)-Lanao del Sur for added information and understanding about the Covid-19 vaccines.
Latiph said more village health stations are under construction in the five provinces – Maguindanao, Lanao del Sur, Sulu, Basilan, and Tawi-Tawi – that comprise the Bangsamoro region. (PNA)