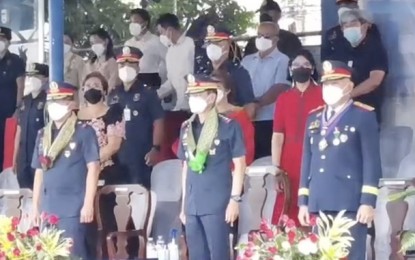 CEBU CITY – Philippine National Police (PNP) chief, Gen. Guillermo Eleazar, on Wednesday cited the "great contributions" of Brig. Gen. Ronnie Montejo in the country's police service as he bowed out as regional director of the Police Regional Office-7 (PRO-7) after reaching the mandatory retirement age of 56.
Eleazar led the turnover ceremony Wednesday at the Camp Sergio Osmeña Sr. here, with former High Patrol Group (HPG-7) chief Brig. Gen. Roque Eduardo Vega taking the helm as the new head of PRO-7.
In his speech, Eleazar told the Central Visayas' police force the importance of telling the stories on how every police officer contributes to nation-building.
"Who we are is really important… to tell what we contribute to make our book worth reading. It really matters," he said, as he commended the outgoing top police official in the region.
Eleazar cited Montejo as "a man of few words but a lot of actions," as he narrated how the latter previously managed the Quezon City Police District (QCPD).
"He earned the respect of the QCPD personnel. His performance made him the top choice to become the regional director of the Police Regional Office-7 when this post was vacated," he said as he mentioned Montejo's programs against illegal drugs, other forms of criminality and reduction of index crimes.
The PNP chief also challenged Vega to prove his worth as the new regional director, saying that Central Visayas is "one of the most challenging but interesting assignments in the country", being the center of economic activities in Region 7 with a vibrant tourism industry.
He reminded the new leadership in the PRO-7 of the PNP's main goal in the region which is to continue winning the Cebuanos and the Visayans' trust and support to the police force.
"You did not reach your fresh start for nothing. I'm sure there are good qualities in you that you can use in your position in the PRO-7," he said.
Montejo, who served as PRO-7 director for 10 months, was also cited for his significant operations against illegal drugs trade in the region, with police operatives having confiscated millions of pesos worth of suspected shabu.
"I bowed out of (the police) service with grateful heart with God's help and support from my family," he said.
Montejo, a member of the Philippine National Police Academy (PNPA) Tagapagbuklod Class of 1989, thanked President Rodrigo Duterte and Senator Christopher Lawrence "Bong" Go for their trust and confidence in putting him at the helm of QCPD and PRO-7. (PNA)