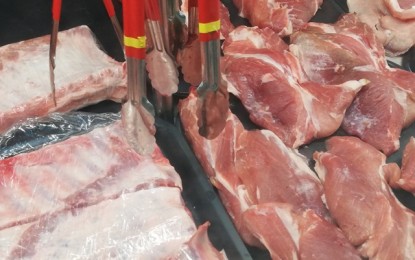 MANILA – The National Meat Inspection Service (NMIS) on Wednesday issued a stern warning against unscrupulous traders and online sellers using fake or tampered Certificate of Meat Inspection (COMI).
These certificates are used for the sale or trade of imported meat, the NMIS said in a statement.
"NMIS have received reports of traders and online sellers which are using fake or tampered Certificate of Meat Inspection for the sale or trade of imported meat," it said.
It warned the public not to buy imported meat accompanied by a COMI that bears an electronic signature.
Forging official marks and certificates is punishable under Republic Act (RA) No. 9296, as amended by RA No. 10536, also known as the "Meat Inspection Code of the Philippines" and its Implementing Rules and Regulations.
It also urged the public to report any trade transactions of imported meat that are accompanied by a COMI using an electronic signature or appearing to be questionable.
The reports can be sent through these e-mails: Office of the Executive Director, [email protected] and Meat Import Export Division, [email protected] They can also be reached through contact numbers 8924 7980 and 09178-367009.
In August 2021, the Department of Agriculture (DA) have responded favorably to the call of importers, composed of meat processors and traders, to temporarily extend the validity of their import permit for pork, chicken, and other meat products. This is to augment the supply of meat in the country.
Administrative Order (AO) 21 ordered the extension of the validity of sanitary and phytosanitary (SPS) Import Clearances (SPSICs) for imported meat from 60 days to 90 days.
The AO states that the "current global Covid-19 (coronavirus disease 2019) situation and supply contraction of container vans have presented shipping and other logistical difficulties" and that such difficulties have prompted stakeholders to request for an extension of the validity of the SPSIC for imported food commodities, especially for imported meat.
The temporary extension will be in effect until December 31, 2021.
From July to October, the country is anticipating the arrival of 140,000 metric tons (MT) of imported pork under the minimum access volume (MAV), which has a lower tariff rate. (PNA)