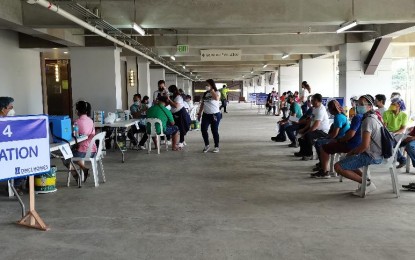 DAVAO CITY – Some 600 Dabawenyos have been inoculated against the coronavirus disease 2019 (Covid-19) through a partnership between the Davao City Government and Quadruple A developer DMCI Homes.
In a statement Thursday, DMCI Homes said employees, workers, and partners, as well as residents of Barangay 76-A Bucana were served during the activity, with the help of the City Health Office (CHO).
DMCI Homes Davao employees and staff of Verdon Parc's Property Management Office (PMO) served as volunteers during the activity to ensure the safety and convenience of vaccinees.
Barangay 76-A Bucana chairperson Rolando Trajera thanked the organizers for their commitment to helping his constituents get the jabs.
"This is a big help for our city's campaign to achieve population protection," he said.
Masahiko Miyawaki, one of the residents of Verdon Parc, said the activity made it convenient for him to get his first dose of the anti-Covid-19 vaccine.
"I'm happy because I feel safe now after having waited for the opportunity for vaccination. Now I got the first shot and I'm very happy. This activity is very helpful because there are many residents, especially foreigners waiting for their turn for vaccination and it's really difficult to find such an opportunity," he said.
Miyawaki added that it is a great opportunity for him since he would no longer go to another area for his vaccination as it is just conducted at the ground level of his residence.
Jeremiah Robas, another vaccinee, on the other hand, commended the orderly implementation of the vaccination process. "I think Verdon Parc is doing their job to help the community. This activity is very convenient because we've been in malls and we saw a lot of people queuing to get vaccinated," he said.
DMCI Homes Davao officer-in-charge Merly Amoguis said Verdon Parc will also host another vaccination activity in the coming weeks for the second dose of the vaccines.
"We thank the City Government of Davao and CHO for allowing us to be one of their partners in the roll-out of the COVID-19 vaccine. Through this partnership, we are able to help the city government achieve its vaccination target and at the same time help our residents, partners, and employees protect themselves from COVID-19," Amoguis said.
Over the weekend, the city government said a total of 716,793 Covid-19 vaccine first doses have been administered, or 59.73 percent of the 1.2 million target.
Second doses were given to 583,002 Dabawenyos or about 48.558 percent.
The city is also starting today (September 30) its handing out digital vaccination certificates as part of the national government's Covid-19 VaxCertPH program.
First dose incentive
The city government is also eyeing to give incentives to individuals who will get the first dose of the anti-Covid-19 vaccine to achieve the targeted herd immunity.
"We are already talking about incentivizing the vaccination for the first dose, and there are already suggestions earlier on how to incentivize," Mayor Sara Z. Duterte earlier said in a radio interview.
She said the Davao Covid-19 Task Force is finalizing the details of incentives for those who will take their first vaccine dose to reduce the current backlog and hit the 1.2 million population protection.
"Our first dose backlog is high. It's been noted that we are looking for 438,800 vaccinees," Duterte added.
She said that they will try the said system in some vaccination centers, and assess if more Dabawenyos will flock and get vaccinated. "Then we'll see if many people will go to our vaccination centers," Duterte said.
Duterte said that there is a need to incentivize the vaccination since most people are hesitant to go to vaccination sites.
Mayor Sara said some are hesitant to go to vaccination centers because they can't leave their children at home or they can't afford the fare if the sites are far from their residences.
"Incentivizing them during this time is understandable because we are at the point where the people do not go to the vaccination sites because what's more important to them is their daily needs. Our incentives will be directed at that," Duterte said. (with reports from Prexx Marnie Kate Trozo/PNA)