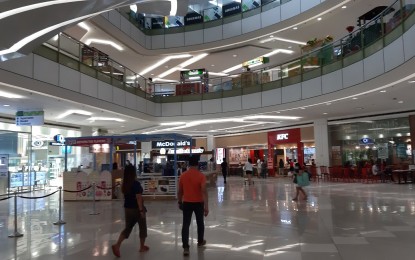 MANILA – The Department of Trade and Industry (DTI) is proposing to allow all businesses to remain open at all alert levels but varying operating capacities.
"The idea is business activities, economic activities should continue at all alert levels and you just change the operating capacity. So at least there is still (business) continuity," DTI Secretary Ramon Lopez said in an interview with ABS CBN News Channel (ANC) Thursday.
He added that operating capacity should be reduced when an area reached Alert Level 4.
Under Alert Level 4, indoor dine-in and personal care services are allowed at 10 percent capacity for fully vaccinated customers only, while outdoor dine-in and personal care services can operate up to 30 percent operating capacity.
"So there's containment, there are a bit of more restrictions, but at least you allow the business activities to continue," Lopez added.
The trade chief is also hopeful that the alert level system in Metro Manila will ease to Alert Level 3 starting Friday.
Lopez said some 76,000 to 80,000 businesses did not operate even under the alert level system since the current protocol does not allow some sectors to operate.
Moreover, he said DTI is pushing for the inclusion of gym operations in Alert Level 4 considering that fitness clubs and centers are essential businesses.
"We've been arguing that exercise is really one vital activity to increase their immunity level. In fact, they allowed outdoor exercise at all levels. We were just saying, for indoors, we just manage it," Lopez said.
Lopez said the DTI stands ready to assist enterprises as the agency continues to offer financing packages to businesses affected by the pandemic.
Aside from the zero-interest Covid-19 Assistance to Restart Enterprises (CARES) loan program, the DTI has financing packages for different sectors like exporters, transport sector, and tourism among others. (PNA)